Introducing quick filters
The latest addition to our ever-growing Widgets is the new 'Quick Filters' feature. These appear as buttons above the search bar in a Widget, and are set up by you to show or highlight whatever places, events or promotions you want.


A quick filter is essentially a saved search, so that people viewing your Widget don't have to type in the search box or go through the advanced filters to find things that they're interested in.
The quick filters can search for anything in the Widget, based on text, date, location, category, tag or place. Once saved, the button that appears can be customised to fit the colours and fonts of your branding and the rest of the Widget.


For example, now you could set a quick filter for Saturday 7th October 2017 and name it 'This Weekend'. Anyone viewing your Widget can quickly find out what's happening on that exact date without having to search through dozens of events to find it.


Similarly, and especially useful at this time of year, a quick filter can be set up for 'Halloween' or 'Christmas' by searching for a word, or even 'October Half Term' if any events in your Widget are using that tag. This enables visitors to your website to find specific seasonal events or ways to keep children entertained during the school break.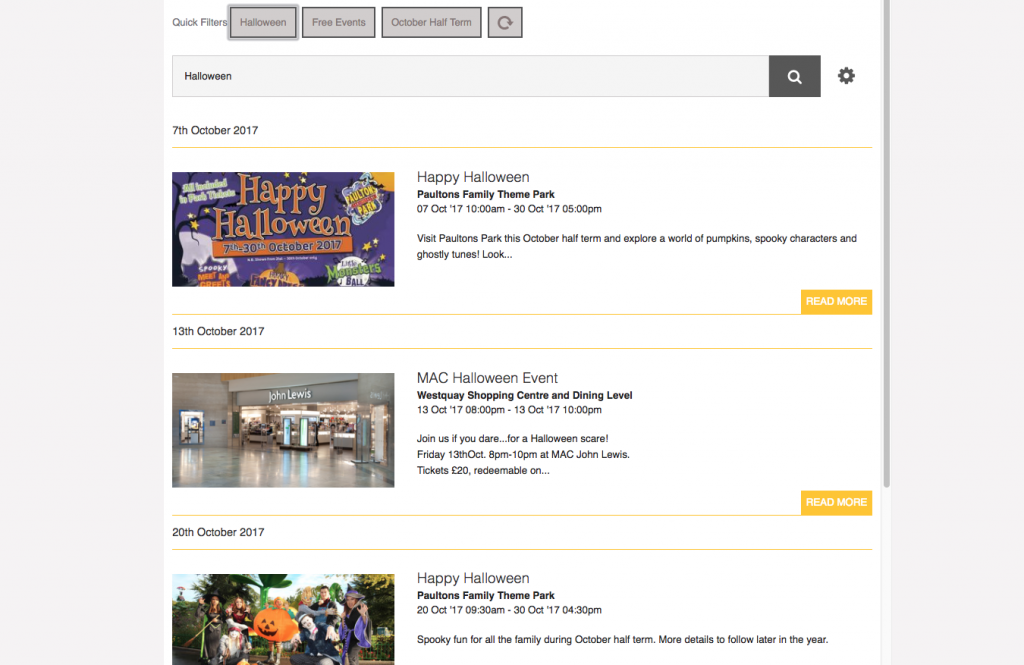 Only want events that are free and at a library, or those suitable for families? These can all be set up in one button. Often people don't really know what they're looking for, and quick filters can act as prompts to encourage people to look at specific content.


There are dozens of ways the new quick filters can be used, and we are excited to see what people come up with!