Introducing the widgety cruise search

Please be aware that while the majority of this article is still correct, we have made some improvements and added new features to the Widgety Cruise Search. You can read about the updates in this post.


We've been keeping a bit of a secret recently, but at Widgety we have been working hard on our latest product for the past 12 months, introducing it to a select few and testing, testing and testing some more. Now that we can finally reveal what we've been doing, we're thrilled to announce our new Cruise Search Widget.


Originally launched at the Advantage Cruise Conference onboard P&O's Ventura at the end of October 2017, the Cruise Search Widget was first available exclusively to Advantage members throughout the peak cruise booking season. It is now available to anyone who sells cruise already, or who wants to sell more cruise in the future.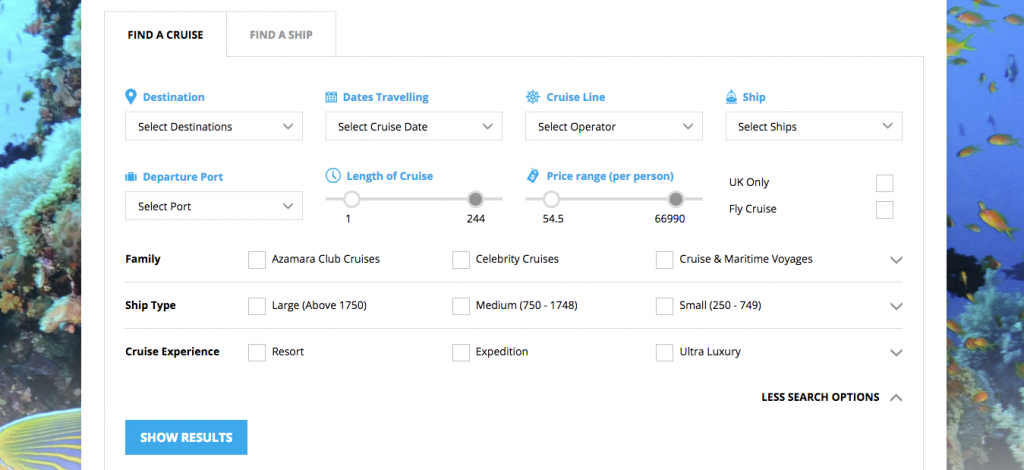 Sounds Exciting, But What is it?
The Cruise Search Widget is like our other products, easy to embed, mobile friendly and beautiful. It allows the user to search for any cruise, on any ship, anywhere in the world.


With responsive filters for destination, dates, cruise line, ship, departure port, length of cruise, price range, UK only or Fly Cruise, type of voyage, size of ship and cruise experience; the user can search by the information they already have, or by what they want.


So, if a retired couple know that they want to depart from the UK to avoid flying, on a small ship but they're not fussy about the dates; they can search exactly by that.


Similarly, if a family of four want a family-friendly cruise during school holidays, on a resort ship with plenty to do but don't have a huge budget, they can search by all those filters too. The possibilities really are endless.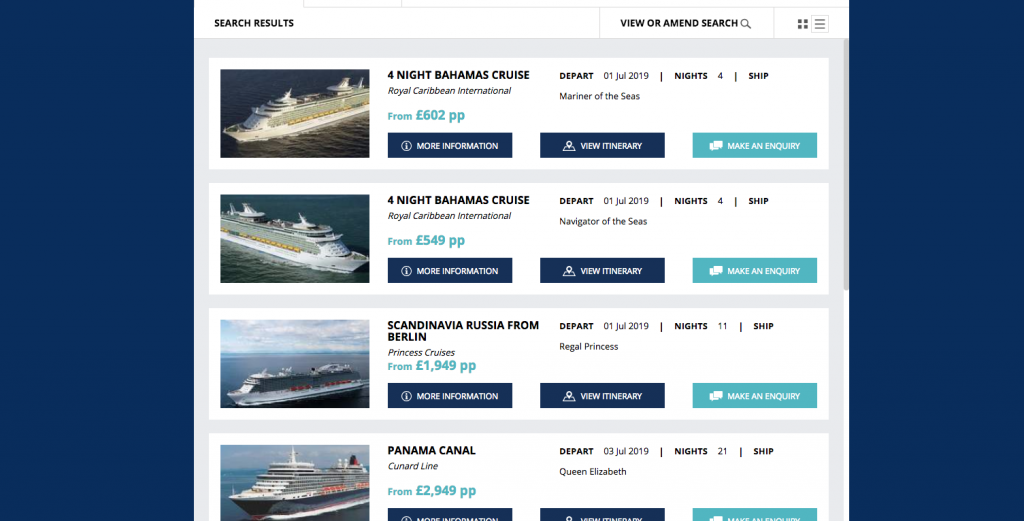 Once you've searched, the results list is a live feed of dates, pricing and availability. The 'More Information' button will tell you an introduction about the ship, give a full list of cabin grades and pricing and allow you to view more information about the ship.


The 'View Itinerary' button will show a map of all the ports the cruise stops at on each day, and when you hover over each stop a short description of the destination will appear.


At every step of the results is an enquiry button and form, which can go straight to the inbox of your sales team.
Where does the content come from?
The information in the Cruise Search Widget comes straight from the Widgety API. All the ship content is provided by the operators themselves, so you know that it's always up to date with the latest refit information and images.


The cruise dates, itinerary, pricing and availability comes directly from the flat files and API feeds from the cruise lines. Some of these update hourly, others once a day, but in the Cruise Search Widget every update is automatic.
What content do you have?
In the ship search, we have more than 600 ocean and river ships complete with a general overview and statistics, but also information about the accommodation, deck plans, dining, entertainment, health and fitness, children's facilities and anything else that's useful to know. From the stunning new Celebrity Edge to an 8 person luxury yacht sailing around the Dalmatian Islands, you'll find it all in the ship search.


For the pricing and availability, the cruise lines we currently have fully integrated are:
Royal Caribbean International, Celebrity Cruises, Azamara, Regent Seven Seas Cruises, Oceania Cruises, Holland America Line, Seabourn, Fred. Olsen, Cruise & Maritime Voyages, P&O, Princess Cruises, Cunard, Viking (Ocean). Coming in the next month: MSC, NCL, Carnival.

Cruise lines that we have pricing and itineraries checked once a week, but to be fully integrated soon, are:
Silversea, Crystal, Saga, Voyages to Antiquity, Sea Dream, Star Clippers, Disney.

River cruises will be launched this summer, starting with all the major river lines.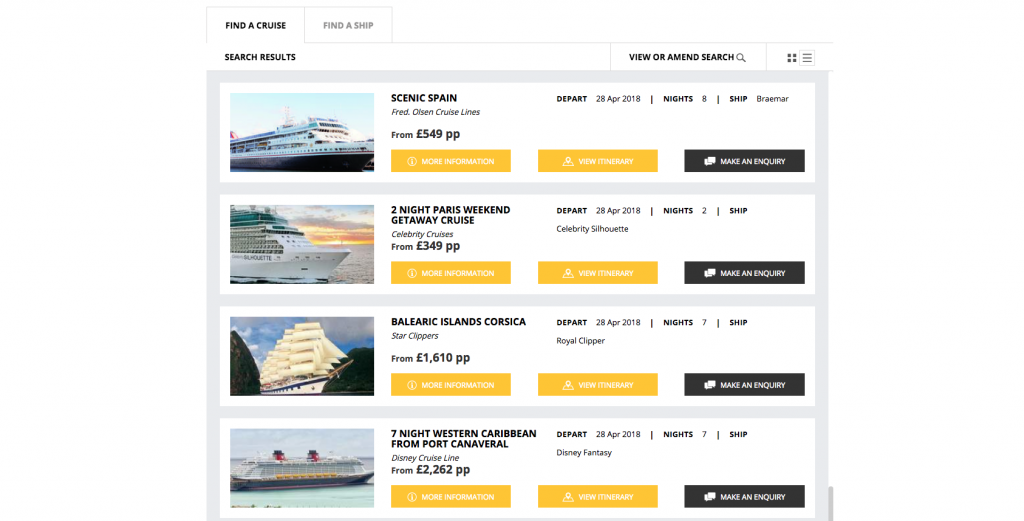 A feature of the Cruise Search Widget is that you can choose which cruise lines and ships you want it to display. If you don't sell a cruise line, you can remove it from your Widget. Or, if you are a cruise line and you only want to show your own cruises on your website or Facebook page, you can select only your cruises and ships for your visitors to see.
The colours are customisable to match your brand, and the enquiry button can go to an email address, URL or can be hidden altogether.
Simply email us at enquiries@widgety.co.uk, call the office on 023 8042 8000 or contact us through our website so we can get you started. 
Once we've built your Cruise Search Widget, you can put the code anywhere that accepts HTML. We have guides on how to do this for your website and Facebook page.
Due to Facebook's new restrictions surrounding the security problems of late, we are currently unable to put any Widgets on a page that has under 2,000 likes. We are working with our partners to find a solution that meets Facebook's new security guidelines.