Talking To Panache Cruises
Panache Cruises was launched in the middle of the pandemic this summer, founded by James Cole (co-founder of Cruise118) and a new team to focus on luxury ocean and river cruises for the UK market. We were fortunate enough to speak to him about what it's like setting up during lockdown, working with Widgety, and what he has planned for the future.

Damian
Morning James, thanks for joining us. Well. Everything taken into account, how is it going?


James
Everything's going well. We're doing more sales than we would have ever envisaged, at a very small level, but our understanding was there was no market for cruising. There is a small market for cruise and we're getting a small share of that small market. We're not covering our costs, but we're contributing more than we'd ever thought. So yes, it's going well.


Damian
Are those bookings for spring next year, summer or even further ahead?


James
Further ahead? Yeah, we've got some. When we first started in July, there was optimism for sailing in September around the UK. So we took a couple of those, and took another couple in 2020 but, you know, probably 5 – 10% of what we've been selling overall. Most of it is Q2 to Q4 in 2021, and now that 2022 has gone on sale we're selling that as well. The information we're getting from our database, and we've built up quite a considerable database through Facebook, is that customers are desperate to cruise, but they're just waiting for the green light for it to be safe to do so. That's the overwhelming comment we're getting.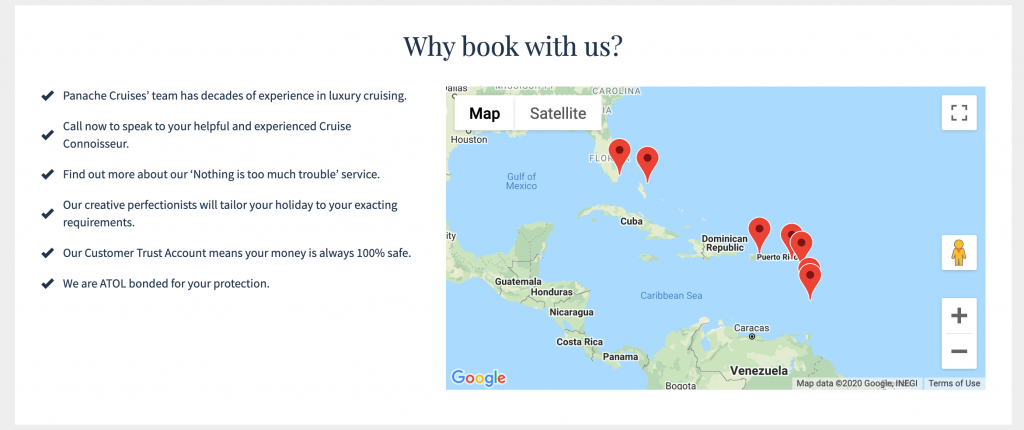 Damian
And was there always a plan? You left Cruise118, and took some time off. Was there always a plan to get back into cruise and start something up?


James
Not not initially. I started my own property business which in its own right has been quite successful. I own part of a construction business as well, and that went pretty well. It was early this year when things started to come together. The cruise industry has a magnetic effect; I've been on three cruises while I was away, and I found that I do have an actual passion for the product without just working in the industry.

Damian
How much does the benefit of hindsight and experience help with setting something up from scratch? 


James
Tremendously. I mean, and let's be honest, the experience of doing things well is good, but also the experience of doing things really badly in the past has helped as well. I've learned huge lessons about not doing things probably more times than I've done things well. Panache Cruises is a blank canvas and all of that experience, positive, negative, whether it's my experience or somebody else's, it's going into hopefully making Panache successful.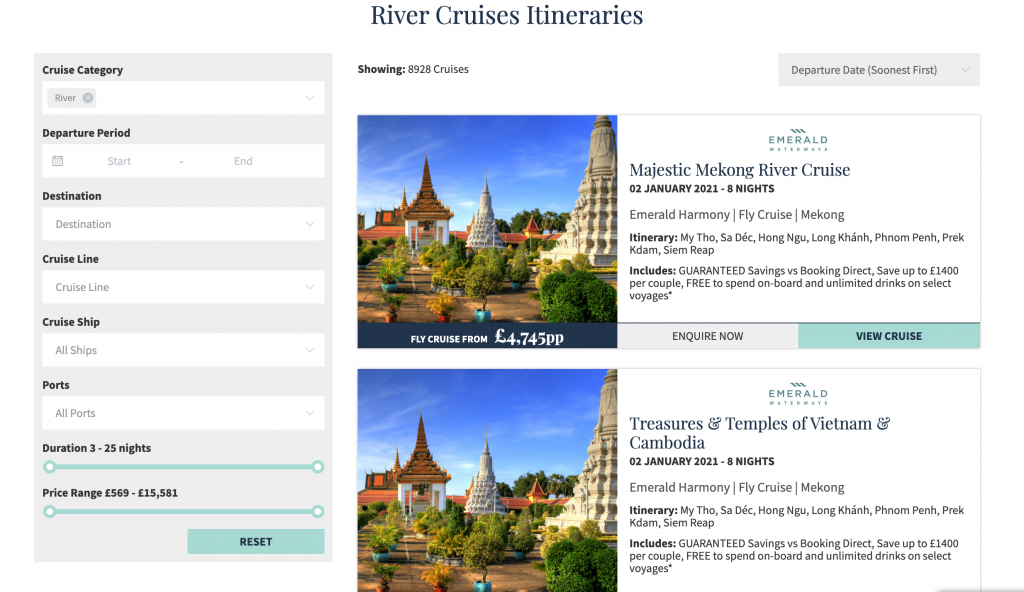 Damian
When we met, Covid was not really there in the national consciousness, and now everything has changed. Has it radically changed your business plan and what your ideas are for starting it, or have you just simply said we'll just keep going?


James
Well we did two launches, we did a soft launch in May, when we focused on recruiting customers largely via social media, which was really successful for us. Then we launched in July to take sales. We did that in the middle of the pandemic, so we knew what we were getting ourselves into. At the end of the day, we knew that there weren't many sales out there.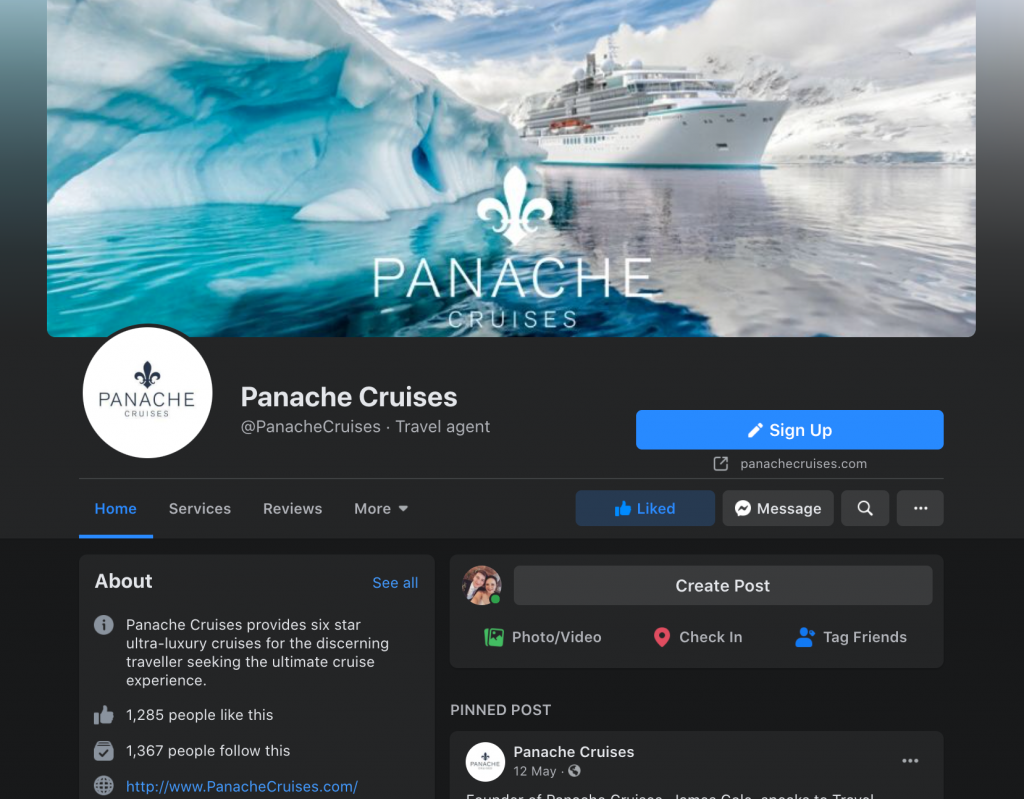 Damian
And has it massively helped that you haven't had to sit there and give refunds? A lot of the issues existing businesses are facing stems from having hundreds of customers they had to deal with, and you've not had to deal with any of that? 
James
Yeah, I suppose you could look at it that way, but at the end of the day, we're setting up a brand new business from scratch and that's got its own challenges. Setting up a business at any time is difficult. Setting up a new business in a pandemic is a challenge. We set up Panache cruises for the future, for the next 5, 10, 15 years. The fact that we started in a pandemic is a challenge, but you've got to start some time. 
There's certain opportunities that come with it, rather than just looking at the negatives in things, we're quite pleased with where we are. We've got loads of opportunity and we're just cracking on from a day to day basis.


Damian
No I totally agree, I find it fascinating. You were posting on Facebook way before you launched to build your profile up. I noticed back in March and April you were posting inspirational stories and fantastic photography. Is it incredibly complicated? Is it something you decided, that this is where we want to target geographically or to a certain market? And without giving away all your secrets, have you exclusively used Facebook to try and generate interest and build a database?
James
No, not at all. We've used traditional PR. We've used other social media platforms. We've done quite a bit of work with Google and Google AdWords, and we've built things in a more traditional way as well. But yes, social media, you can't ignore it these days, and certainly I don't profess to be anything like an expert. But we've gone into the marketplace and found people who know Facebook better than we'll ever know, and that's how we want to move forward and put our strategy together, to be honest.
Damian
I try and do the same and hire people that are better at what they do than I am; like buying expertise. Is that what you've done in terms of the team you've built at Panache?


James
Yes, I'm massively fortunate with the team I've got at Panache. Some of these guys have been displaced by their previous companies and the talent pool out there to recruit from is probably a once in a lifetime opportunity. We paid out very little in terms of recruitment fees. I think the team that we've got at Panache is unbelievable, to be honest, and I'm very, very fortunate to be working with people of such fantastic calibre.
They have different skills, and as you rightly point out, many, if not all of them have skills that are superior to not only mine but everybody else's in the team, which is, of course, one of the key traits in building a great team. That's something I'm really fortunate to have managed to achieve.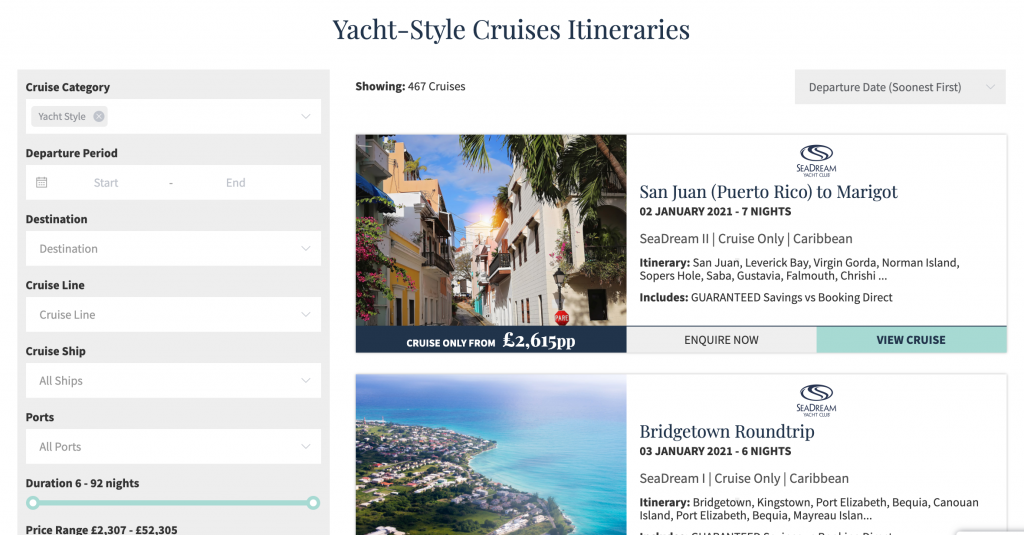 Damian
I do agree, this is a once in a lifetime opportunity to recruit incredible staff. There's some phenomenal talent out there. I was reading about airline pilots now driving for supermarkets, and those are skills that really should be used elsewhere.
So, you've chosen a range of cruise lines that you're getting from us. Why have you chosen those cruise lines? Is it the brand or are you more itinerary based? Or is it a combination of the two?


James
Yeah, we were thinking about our strategy. One thing that's worked superbly well in the past is selling luxury cruises. So we absolutely wanted to focus on the higher end of cruise. You know, we wanted to be able to differentiate products. We wanted to be able to stand out as a seller of luxury cruises. So we chose four cruise categories; elite ocean, which includes Regent, Seabourn Silversea, Azamara, Oceania and Crystal, et cetera, that fit into that typical luxury cruise sect. Then we look at high-end river, and so we work with all the river suppliers largely across mainland Europe, but further afield as well.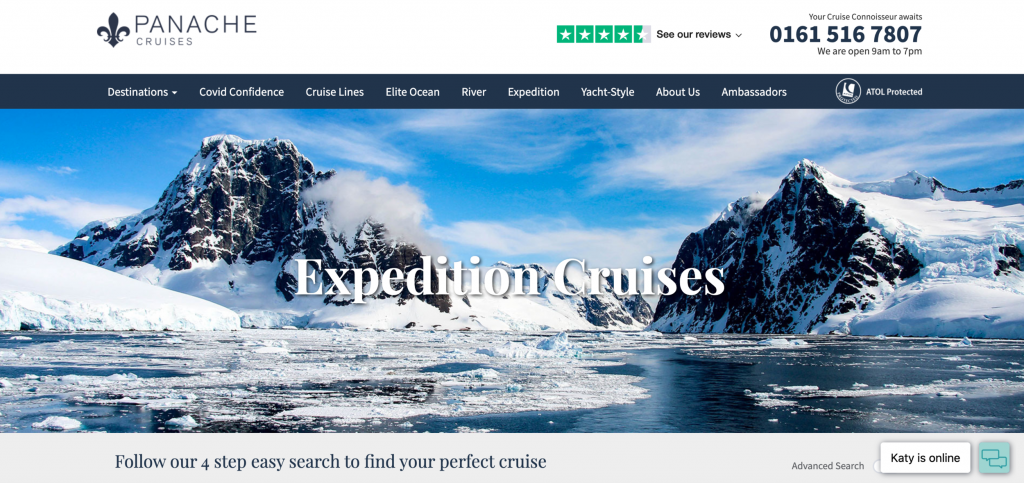 Expedition; we think that's pretty much an untapped market and something that we really want to try to drive forward when the market returns. And then what we're calling yacht style cruising, which is a new-ish category. I'll use the term new-ish category because there's new entrants but it's been around for a while. SeaDream, you might say that they were the founder of yacht style cruising, but of course, Scenic, Emerald, Ritz-Carlton are new to the game there. We think that's a big opportunity as well moving forward. For us, going into the mainstream isn't for us at the minute, but who knows, it might become part of our product portfolio as we grow and differentiate.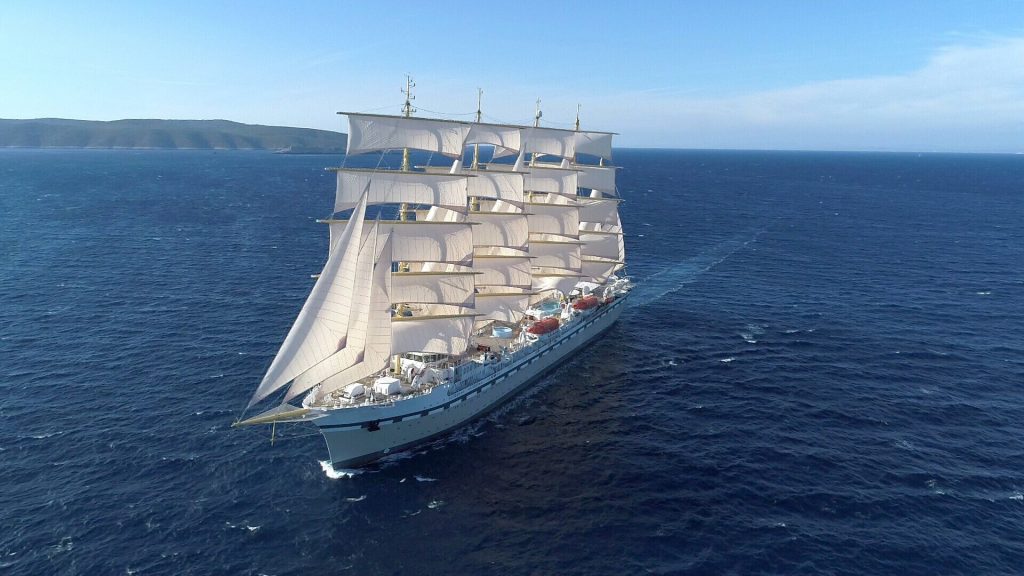 Damian
We're integrating some smaller lines at the moment, we're about to go live with Vodohod, and we're in the middle of adding in Tradewinds Voyages, a new cruise line launched in the pandemic. Do you see luxury as defined by the customers' experience and the destination? So would you take cruises from a more mainstream cruise line, but just certain itineraries?


James
Yeah, I think luxury is a personal thing at the end of the day, isn't it? When going to the Antarctic do you need to be on the world's "most luxurious cruise ship"? Probably not. It's probably not what a customer expects. So we need to engage with cruise lines that follow our brand values and that we want to work with and they want to work with us. But there's certain cruise lines that we work with that you perhaps wouldn't say they're ultra luxury, but they fit with us because of a difference that they have. They may cruise in a different way to different destinations or do something that's a little bit different. 

Damian
So there's been a lot of discussion in the press about travel agents being more reluctant to package because they want to push that risk back onto the cruise line or the tour operator. Are you looking to take the full package? So, for example, we're about to add in all of Scenic and Emeralds' package tours with a cruise in the middle. Will you take packaged products as well, or are you still happy to unbundle and put together your own cruise, flights, et cetera, yourself?


James
I think packaging is an interesting one. I'm sure my competitors will have different strategies on this, but we've got a specific strategy for packaging. Yes we will package cruises that are departing in November and December this year if we deem that the risk vs reward is in sync.
We're not going to risk everything to get a small return from a packaging point of view over the short to medium term. Clearly, that would be stupid. We'll weigh things up; we will proactively package products that we think are right, that we think are differentiated and that gives the customer what they need as well as giving us the return that we need on that particular package.


Damian
So you don't have a retail business, it's all online. When a customer picks up the phone or sends you an email, how do you engage? Do you have your team doing video calls to talk to customers? Is it more email or phone or is it a mix of all three? I'm just interested in how much video is making an appearance in your business.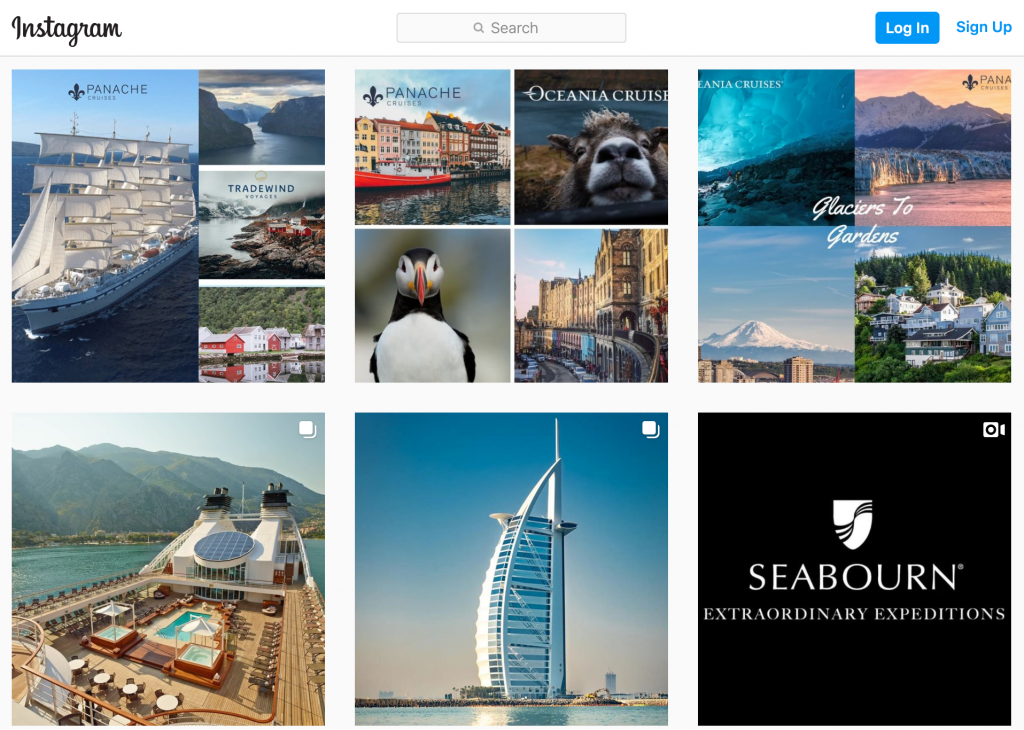 James
We're a new business, so we're thinking about things in different ways. Whether it's on the phone, in person, over text, via WhatsApp, Instagram. We've not got as far as some of the newer social media platforms – we're not on TikTok! We want to have an omni-channel approach and it's all about suiting the customer.
I think the key message for us is that we use technology to enhance customer service, not replace it. So one of my bugbears and the team's bugbears is IVR [Interactive Phone Response] phone systems. We refuse to have a phone system that's "press one for this, two for that, three for that. Oh, I'm sorry. You're still waiting? We're getting to you as soon as we possibly can". That's not good customer service.
We want our customers, if they're calling us to dial the number, it rings and somebody answers. There might be technology in the background that puts them through to the person that they last spoke to. So we're using technology to enhance customer service across our omni-channel communication platform. We want to do what's best for the customer. That's the most important thing for us, so if that's a Loom recorded video that sends out, or a Zoom call, that's great. Talking about that being innovative, I think that's just the age we're living in at the moment isn't it, I think that's just expected.
Damian
There's some fantastic technology available. We use something similar in-house. You know, you can call from anywhere, move calls around, it's very quick.
Is there any geographical plan for your customer base? Are you simply it's UK and that's it and you're not really looking to attract customers locally or does that not apply being an online business?


James
No, we're a UK based business. We don't have an office, so we're all working from home, and we'll continue working from home for the foreseeable future. I am sure in the medium term, within the next six months we will be looking to acquire an office somewhere in the northwest. But we've achieved everything that we've set out to achieve working remotely, our homeworkers are based up and down the UK. So the UK is our market with no immediate plans to look any further than that. But I'm not looking any further than next week at the moment with things changing as quickly as they are! 


Damian
You've chosen to rely on Widgety, which is a huge responsibility for us in terms of providing you with your ship content, itineraries and feeds, and you're using TProfile to power your website, back end and quotes system. Why us? How have you found it, is anything you don't like?
I won't edit your comments out I promise!


James
From the moment I met you, you gave me confidence because you've got the right attitude. You've got boundless energy, you've got massive enthusiasm and you are the type of people that we want to work with. Now I'm sure there's other technology companies that are like you but you're fresh, you're exciting. You're just responsive. You know, there's loads of superlatives I could use.
So first and foremost, we wanted to work with you. That was the key thing. In terms of the products, everything from your content library, to the copy, the images that you have, the brochures, the deck plans, the pricing, the availability, all the itineraries that we need, just all seemed to make sense.
It just makes our life easier to sell cruise holidays and to present cruise lines and cruise holidays on our website and across our other channels. I think that pretty much sums it up.
I suppose we can argue as well, the value for money of working with you guys. I'm sure you can always offer a little bit more value to us, Damian! But it seems to be pretty good so far, to be honest.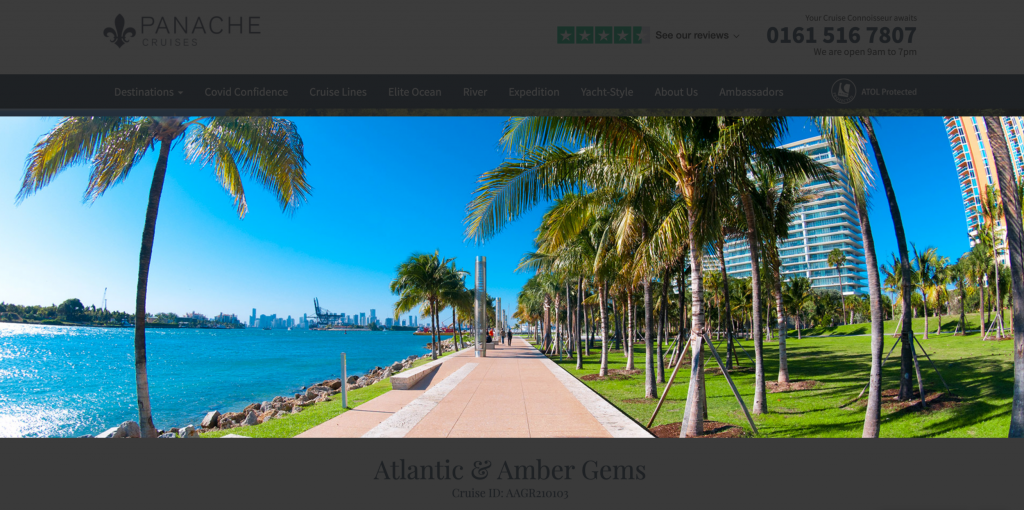 Damian
What about TProfile, are you happy with your site?


James
It's worked exceptionally well. Clearly there's pros and cons of working with somebody who has a 'cookie cutter' web solution that you can adapt and change and build your own development within. There's certain constraints of working with somebody like TProfile, but again, the attitude of the guys, you know, led by Tony has been phenomenal. Quick responses, easy to do business with, sensible in terms of the pricing.
It's been really good and it certainly far outweighs any other option we had, whether that's going with somebody different who would build a website for us or doing it in-house. It's been a great solution for us.


Damian
What about from a home-working point of view? We've been working for about a year and a half and it's been fine. Have you managed okay with it? Do you feel the need to meet or has it been okay to do everything via phone and video with your team?


James
We meet both on Zoom or equivalent and in person as well. It's not been exclusively home-working recently, but when we first started in the depths of full lockdown, then, yes, we were all working from home.
Home-working has got its place and it benefits some people tremendously, but I don't think you can beat a proper face to face meeting and a face to face environment.
Perhaps gone are the days where everybody needs to be in the office five days a week. There's clearly now some opportunity to have flexibility and some more work life balance. I think we've learned a lot of lessons from what we've done, and again, some are positive, some aren't so positive. There's a blend, is where we've got to.

Damian
What about outside of work, what have you been doing to stay calm through all this?


James
Oh you think I'm calm? That's interesting!


Damian
I'm not a very calm person, so I was fascinated.


James
Well, my daughter Lilly is nearly 12 months old, she was born in November, 2019. It doesn't feel that long ago, it's gone really quickly. I've got two other children as well, they're 13 and 15, and Heather, my other half. With my mum and dad, Heather's mum and dad and some friends and family, I think that pretty much keeps me busy. I have the odd round of golf, I like reading these days. I try and go for a walk every evening. I just try to spend as much time as possible with the family.
It's interesting, one of the biggest influences on my life has been giving up drinking. I've not had a drink since 2018, and that's had a massive impact on me. I used to drink quite a bit, a good social drinker, nice glass of wine with tea, a few beers at the weekend, go watch the footy with a few beers, a bottle of wine on a Friday and Saturday and all that sort of stuff.
I knocked it on the head a couple of years ago now and I honestly have never felt better, I'm in great shape health wise, physically fit, mentally alert, it's fantastic. I've got more energy than ever and I think that's helping me achieve things in business and also personally as well.


Damian
That's fantastic. I think as soon as you said I have a 12 month old daughter, I thought, well, that's it. 


James
Exactly!


Damian
Yeah. Brilliant. Really, thank you so much for your time.