An Interview with AmaWaterways
A few weeks ago we were able to speak to Jamie Loizou, Sales, Marketing & Digital Director at AmaWaterways. With an in-depth knowledge of the brand and the cruise industry, he shared with us everything that's going on at AmaWaterways now, what's planned for the future, and everything a travel agent might need to know in order to generate more leads and sell more AmaWaterways cruises.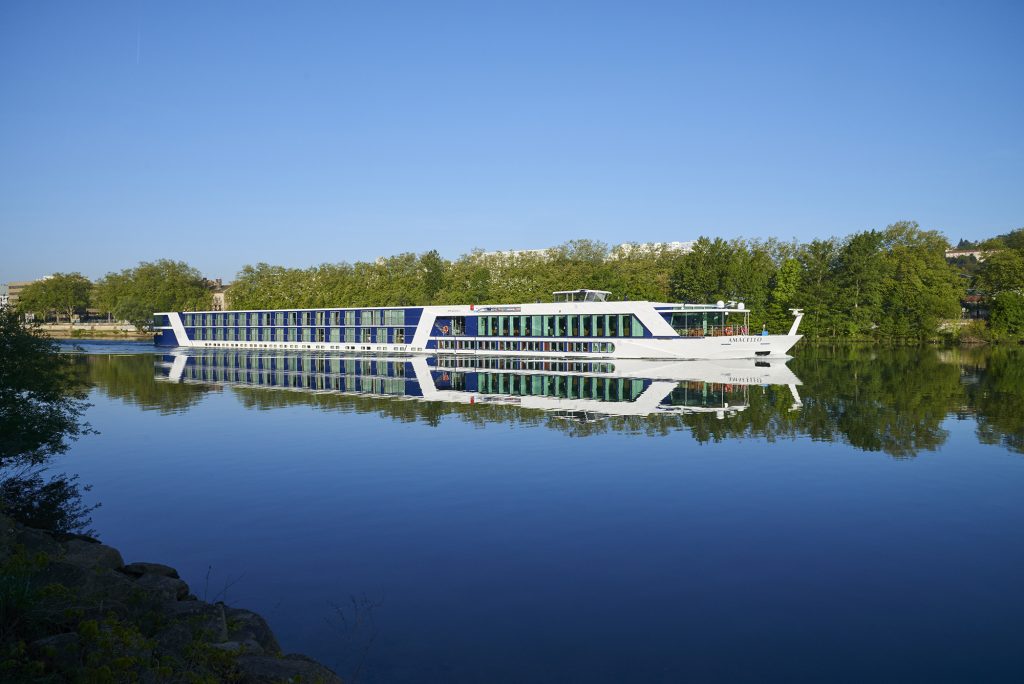 Damian
Hi Jamie, thanks for agreeing to talk to me! To start with, AmaWaterways have set up an office in the UK in the last few years, a big investment. What is that you're planning to achieve in the UK with travel agents?
Jamie
Well we want to replicate what AmaWaterways have done in North America; they're incredibly well known and awarded by the US and Canadian travel agent communities. They've got great brand awareness and they are 100% trade-focussed, and it's what we aim to replicate here in the UK.
We want to support agents in growing their river cruise business and actually it's important that we use Widgety to help promote rich content to agents for them to then promote to their clients. I think that Widgety helps us to demonstrate our points of difference as well as the scale of the products that we have on offer.
Damian
In your experience of the industry, especially with river, what do you feel is the biggest barrier a travel agent faces when wanting to sell river cruise at the moment?
Jamie
I think there is a huge amount of choice, and I think it's incredibly confusing for travel agents. Everyone talks about inclusions, and that they are offering a luxury experience, but actually the river cruise lines need to do a better job in differentiating themselves.
I also think that the choice can be overwhelming for a travel agent, so my advice to them would be pick a lower-end, a mid-range, and a higher-end product and focus on three or four brands that they want to promote. Get on board the vessels, get the training, speak to those river cruise lines that are going to offer you support and work in partnership with you, and then it's easier for you to sell the product because you're not spreading your knowledge thinly across dozens of river cruise lines.
Damian
When you go out and sit with a travel agent and they go 'ok great, we would like to start selling AmaWaterways', what's the next steps? Is there a training program? How long does it take for a travel agent to get on board with AmaWaterways?
Jamie
Well it can be pretty instantaneous, it's just a matter of getting that agent set up in our system if they aren't already. We would always recommend training first because obviously a travel agent wants to convert any leads, and you don't want to invest time and energy and effort to get a lead and then not be able to speak to that client and put them on the right product for them. Putting them on right right product means they're more likely to come back and book with you again, so I think training is very important.
We work very closely with CLIA; we do lots of roadshows and webinars with them, and we also have a sales team that go to stores to do face-to-face training with the agents as well. For us that's really important – by doing training face to face, not only do you get to have a very interactive training experience, but it also helps us to build those relationships with the travel agents themselves. They will know personally Jon Knight, who is our man in the south, or Jo Smithies who is our lady in the north.
If there's any additional questions or anything at all around any booking or the booking process, then they can pick up the phone and speak to someone that they've already met and I think that really then compliments our travel agent portal that we have, which is via our website, which has an online booking engine as well as our latest offers and media library. So it's kind of a compliment of that face to face, and what we do digitally online and via webinars as well.
Damian
You recently relaunched your training portal, and so everything is there that a travel agent might need to learn about the brand?
Jamie
The travel agent portal has some information, but we are actually looking to shortly launch an online training system. We do have online training via CLIA currently, but we will be offering a slightly more bespoke and richer experience for our travel agents, so watch this space.
Damian
You've got some different pricing for the cruises, are there any key points for an agent to understand when selling AmaWaterways regarding fare sets and those pricing changes?
Jamie
I think really the most important thing for the agent is to have an understanding of the guests' expectations and budget. We have fixed window staterooms, french balcony staterooms, twin balcony staterooms and suites, but there's only three variations between those: where you are in the ship, the square footage and the size of the balcony. With regards to the amenities there's very little difference between a window stateroom and a twin balcony stateroom, they all have incredibly comfortable beds, fluffy robes, fluffy towels, the entertainment system and complimentary Wi-Fi. It is literally just those three things that differs.
It really does depend on the guest as to what they see value in, some spend very little time in their staterooms; and actually with river cruising you are out and about exploring maybe more than you would be ocean cruising. So actually a standard category E grade (fixed window) is suitable for a significant number of people, but then you have others that want the additional space and want the options to sit outside on their own private balcony.
Damian
How often do your brochures change, and will they always be available in print?
Jamie
We have one extensive brochure which covers each year – our 2020 brochure came out in May, and that will last for the entire season. I still think that if people are spending a lot of money on a luxury product they do actually want something tangible, and because of that I think that in the short to mid-term we will always offer a printed brochure.
Damian
Can a travel agent get as many copies as they want? Do they have to sell much AmaWaterways to get a brochure if they want to stock it on the shelves? How does it work?
Jamie
If an agent rings up and wants a brochure then absolutely we will dispatch that to be with them within a few days. If an agent wants more than a small supply then they'd speak to their BDM and we'd establish why they need the stock, and if it's for a good reason and it will see a return on investment for both the agent and for us, then we definitely will work with the travel partner.
Damian
Moving on to social media – how important is social media for talking to consumers and building your brand, and do you use it to talk to travel agents directly?
Jamie
So actually here in the UK we run our own social media for trade only, so that's how we speak to our trade – via Facebook and Twitter. We feel that it is a good channel, it gives us personality, enables us to communicate quickly and cost effectively, so I do feel that it is very important.
From a consumer perspective we are a global brand, so we have a global social media and they have exactly the same mindset. So distinguishing between a UK guest and a US guest, for example, is kind of irrelevant; our guests are younger, more active, they like their food and wine, they like to explore the destination that they're in and therefore it doesn't really make any difference where the customer comes from as they've all got the same mindset and they all have the same desires that they want to experience when they go on a river cruise.
Damian
You've got the new AmaMagna launching and, I know you've probably been asked this many times, but is it a one off, or do you think that if it really works it could mean a new class of river ship coming out in the future?
Jamie
The AmaMagna has been a long held dream of our owner Rudi Schreiner. As far as I'm aware, it is a one off at this moment in time, however I do feel that with what AmaMagna is offering and the benefits in terms of the additional space, the four restaurants, five bars, suites of up to 710 square feet etc, I think the season will be incredibly interesting and it will really set the tone as to whether other people might want to replicate it or think it's a good idea.
It's an interesting one. I don't think there are any plans for anything else at the moment, this has been such a long term dream of Rudy's that it's kind of everything coming to fruition.
Damian
We saw in Paris last year at the CLIA Conference that there's real focus on wellness across the fleet, something that really I think you don't normally associate with a river cruise. Is that all about brand cut-through or about getting people to re-conceptualise what a river cruise is?
Jamie
For us I think it's fulfilling what our guests want. Our guests are younger, 50 – 55+, which is younger than the traditional river cruise audience, and we were finding increasingly that our guests wanted to take the bikes off independently, they were doing stretching on deck, they want to do the hiking and biking excursions etc, and the demand for those activities was very high. We felt that we needed to offer something in addition, and it's what the modern traveller wants, wellness, activities and we even have healthy dining options.
Damian
And do you have anything else exciting planned for the future? In terms of big changes across the fleet or anything else?
Jamie
We've got three new ships this year, as well as the AmaMagna we have the AmaDouro, which is cruising on the Douro, and we have the AmaMora which is cruising on the Rhine. We have plans for a new ship in the future, and we're looking at new destinations as well, including new destinations outside of Europe.
So for us, it is about innovation and leading the industry, and that's an incredibly important part of our business. Not only making sure that our guests have exceptional experiences and that we support and grow river cruise with our trade partners, but it's also about innovating and pushing the industry forward.
Damian
So last question, what is it that you love the most about the cruise industry and your job?
Jamie
For me I do feel that within cruise that we are very lucky, because as an industry we offer exceptional guest experience and exceptional value for money – it's the quality of the product that we offer that gives me immense pride.
I would also say the people that are within the industry, we've got some brilliant people that I get to work with on a day to day basis, not only within my own office but also with the travel agents that we work with and the people that work within our space.
Within other areas of travel, people don't talk to or like their competitors, but actually in cruise we all work so well together, through CLIA for instance, and we're all pulling in the same direction. I have some great friends that work for competitors, and we all respect one another, while working hard for our own brands. The people in the industry are fantastic.
Damian
I hear that time and again, and it's probably one of the main reasons why we're so excited about what we do as well, it is unique compared to hospitality or anything else. Thanks so much for your time! Is there anything else you wanted to add?
Jamie
Absolutely, it's a great industry. Only that if anyone wants to start selling AmaWaterways – speak to me, talk to your BDM, speak to our reservations team and our agency support. We want to support people and help them grow their river cruise business and we really do feel that we have a product that will enable them to do that.
Damian
That's great, thanks again Jamie.

If you are interested in selling AmaWaterways, you can do so by contacting:
Jamie Loizou: jamieloizou@amawaterways.com
BDM North – Joanne Smithies: joanne@amawaterways.com
BDM South – Jon Knight: jonknight@amawaterways.com
Reservations Team: amares-intl@amawaterways.com / 0200 520 2250