Widgety is an all-in-one platform that brings together holidays, tours, cruising, operators, agents, resources, brochures and images in one place.
We have a range of solutions for all types of travel business; however we are not a travel agent, we don't sell holidays, or build websites. We're also not affiliated with any specific third party.

Widgety is simply designed to be a complete content resource.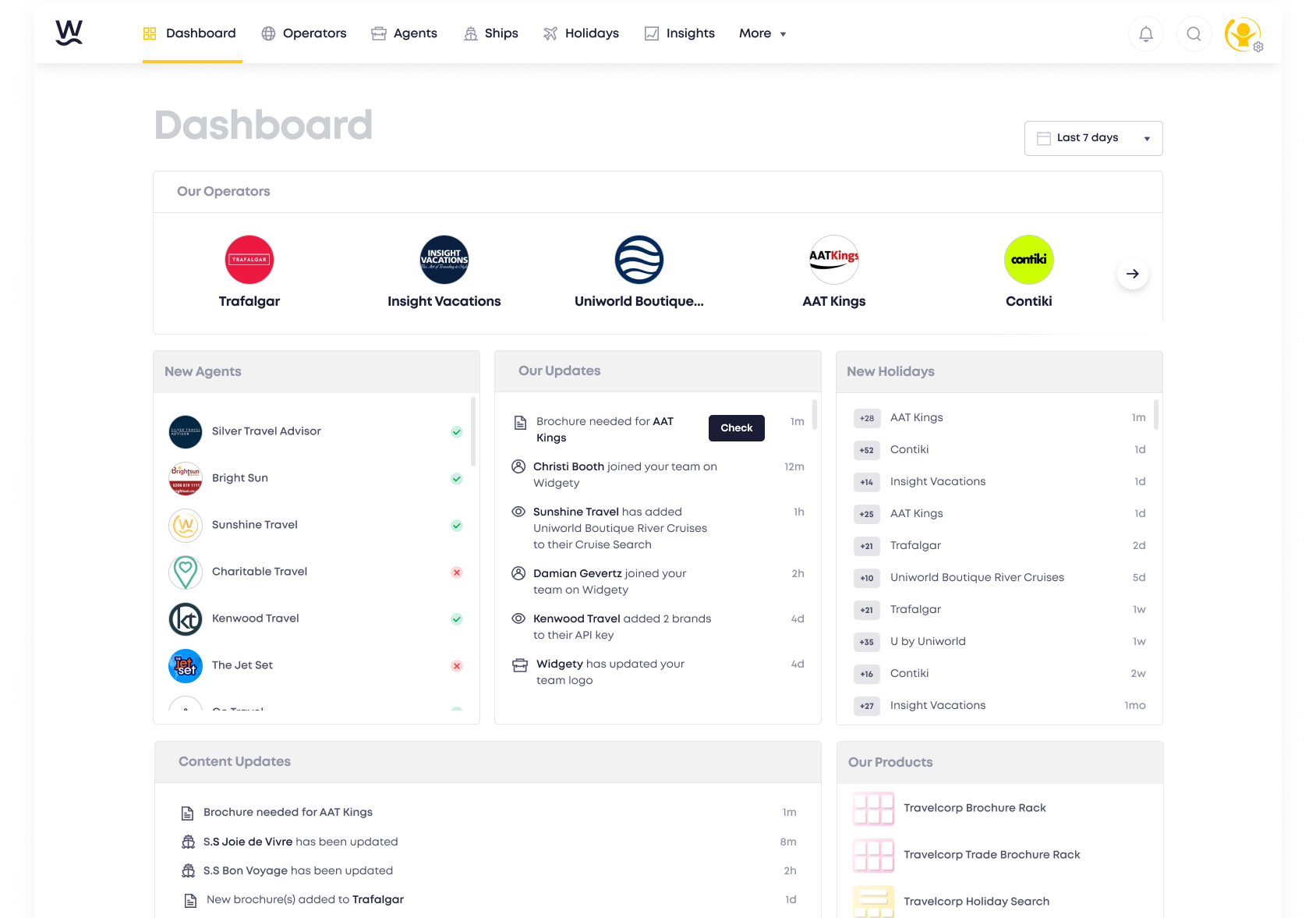 As a cruise line or tour operator, Widgety allows you to input all of the information about your brand and holidays into a single place, which can then be accessed by the travel agents you work with. 
You can add all types of content, plus videos and pdf resources, control where it goes and alert your partners to any changes. In the future we'll be adding in the ability to add in events and news items, too.
For the travel agent, Widgety allows them to have a feature-rich web presence without the need to be an expert on every operator, or for expensive web development. 
We wish to understand everything about you as a brand and the holidays you offer. You'll be assigned an account manager to guide you through the initial onboarding process and for day-to-day contact. 
Our platform allows everything to be both manually added into Widgety or fed in through an API or flat file. 

It's built for whatever level of IT you have in house; from complex multi-currency API feeds to a simple spreadsheet. 

Itineraries can be basic, or contain detailed information with all included accommodation, meals, comfort levels, pre and post packages and anything else. 

Whatever type of holidays you provide; a cruise, tour or mix of the two, we understand that your products are complicated. You visit hundreds of destinations with itineraries that have multiple pricing options, extensions and upgrades. 
Your holidays are incredibly visual; you may have images for each destination, videos, print resources, social media tiles and more, that you wish to make available to travel agents and their customers.
For cruise lines, your ships are a key part of the holiday experience and need explaining in detail; you're more than just a set of deck plans. It's not easy to make sure that all agents have updated cabin images after a refit, and by using Widgety, they don't have to.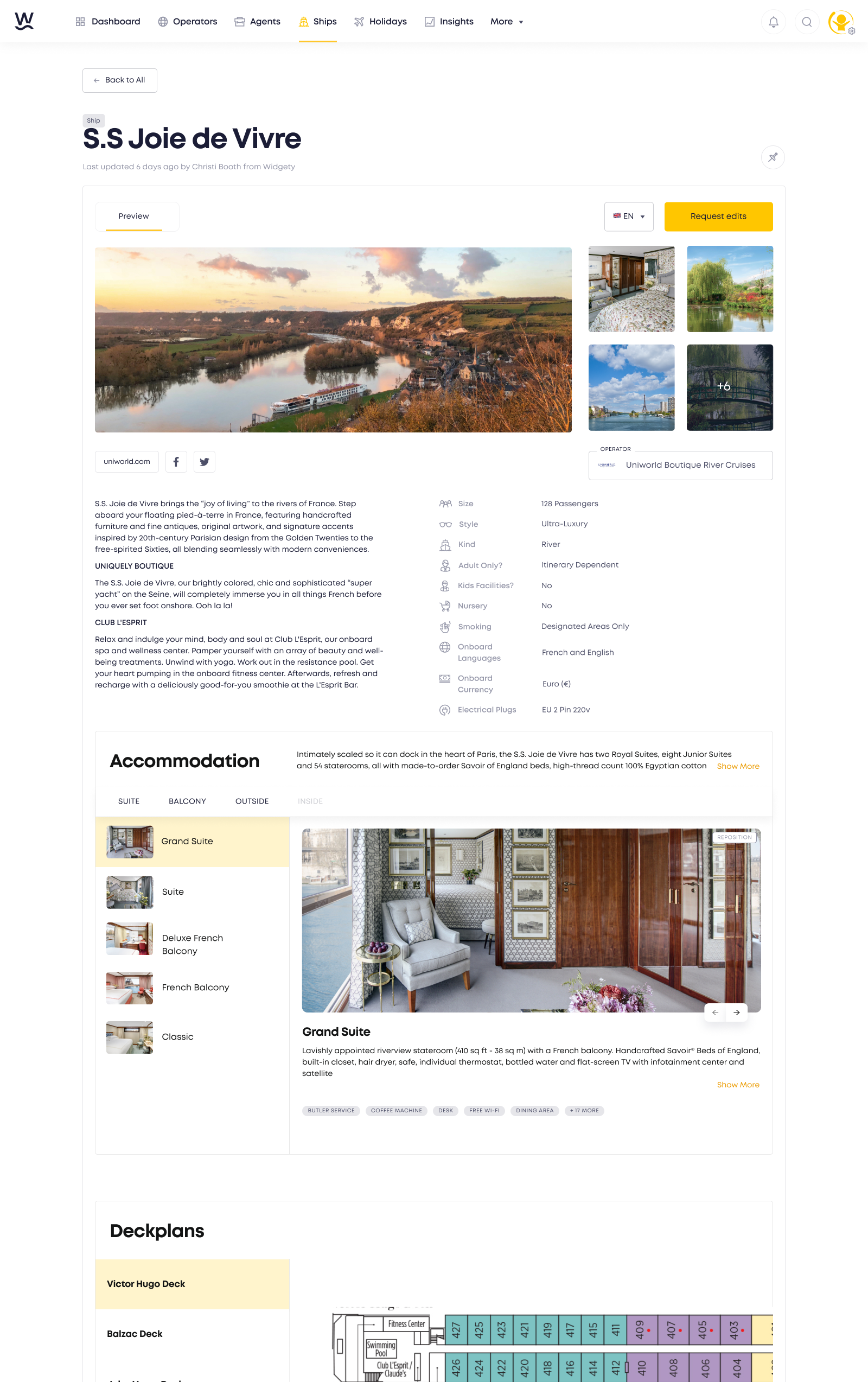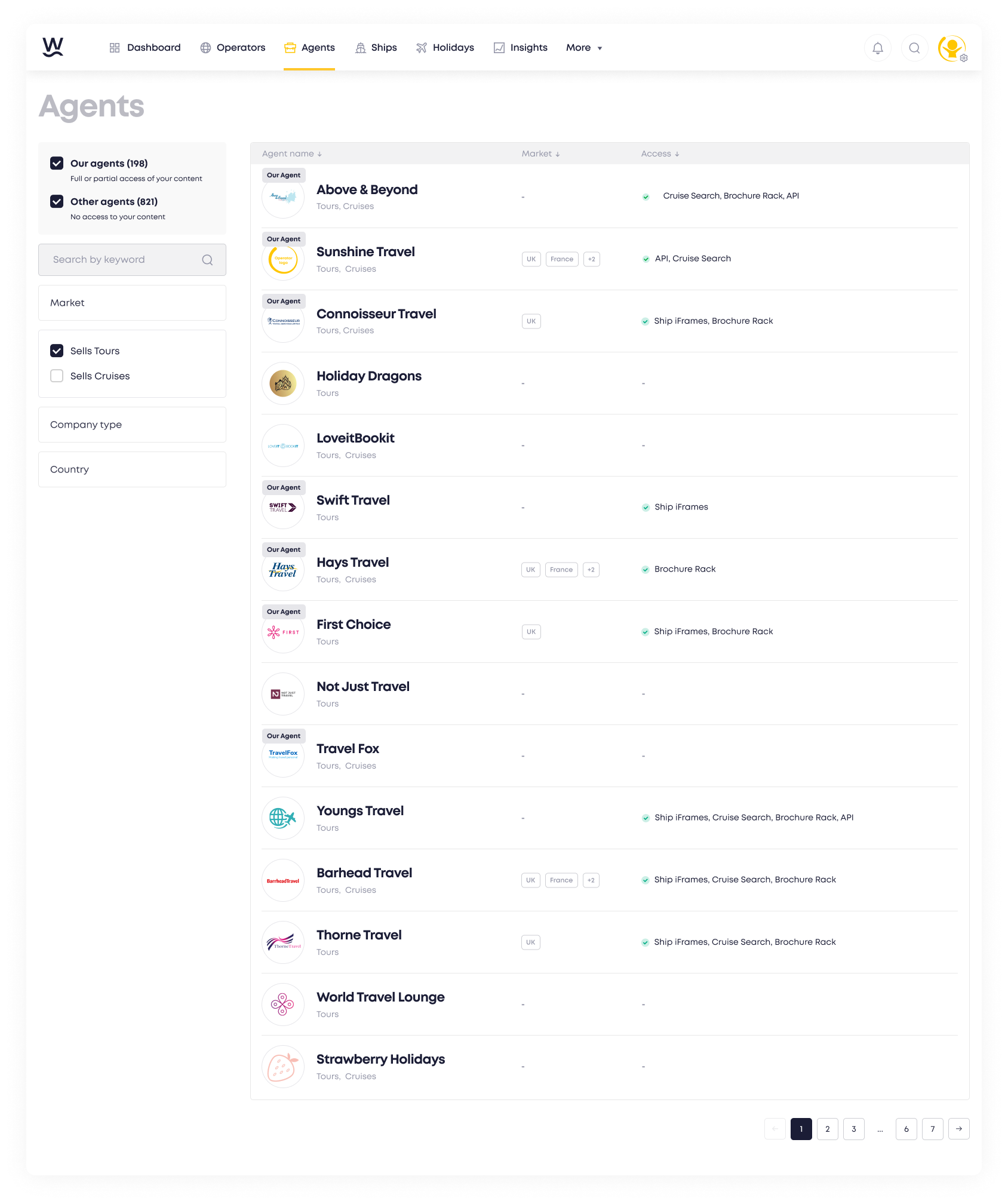 Widgety is a platform to save you time. It can help you to understand exactly what content an agent has access to, and what resources are being used.
Importantly, it allows you to reach agents that may not have previously sold your brand, and gives them access to all the tools they need to convert the client. 
Reach the front-line staff that are selling your brand directly, by appearing on their personal dashboard, rather than only communicating with those in charge. This also allows agents that are unfamiliar with your brand to get instant access to all of your content. 
Agents can easily access your latest promotions, news, social media tiles and other assets without having to trawl through an overflowing inbox. 
For operators, you can also see which agents aren't selling your brand and reach out to them. 
Details sell holidays, but they also take time to find. By having everything in one place, operators can save time, agents can be more efficient and customers can be more sure of exactly what it is they're buying. 
Widgety is not a replacement for your own trade platforms, but is an addition to the resources available to your agent partners.
Widgety wants to help travel agents find the right holiday for their customers. We want to allow them to find the detailed answers to complicated questions in real time, without having to call or email you.
Travel agents should be able to send a menu to a customer, to know the size or facilities in a cruise cabin, what additional stays might be available or what upgraded accommodation they can have.
Most importantly, it should be easy for them to tell their customer exactly what's included in the fare. 
We want to make it easier for agents to get in touch with you if they want to find out more, and for you to contact them directly (subject to Consortia or their management approval).

Tony Evans – Director, TProfile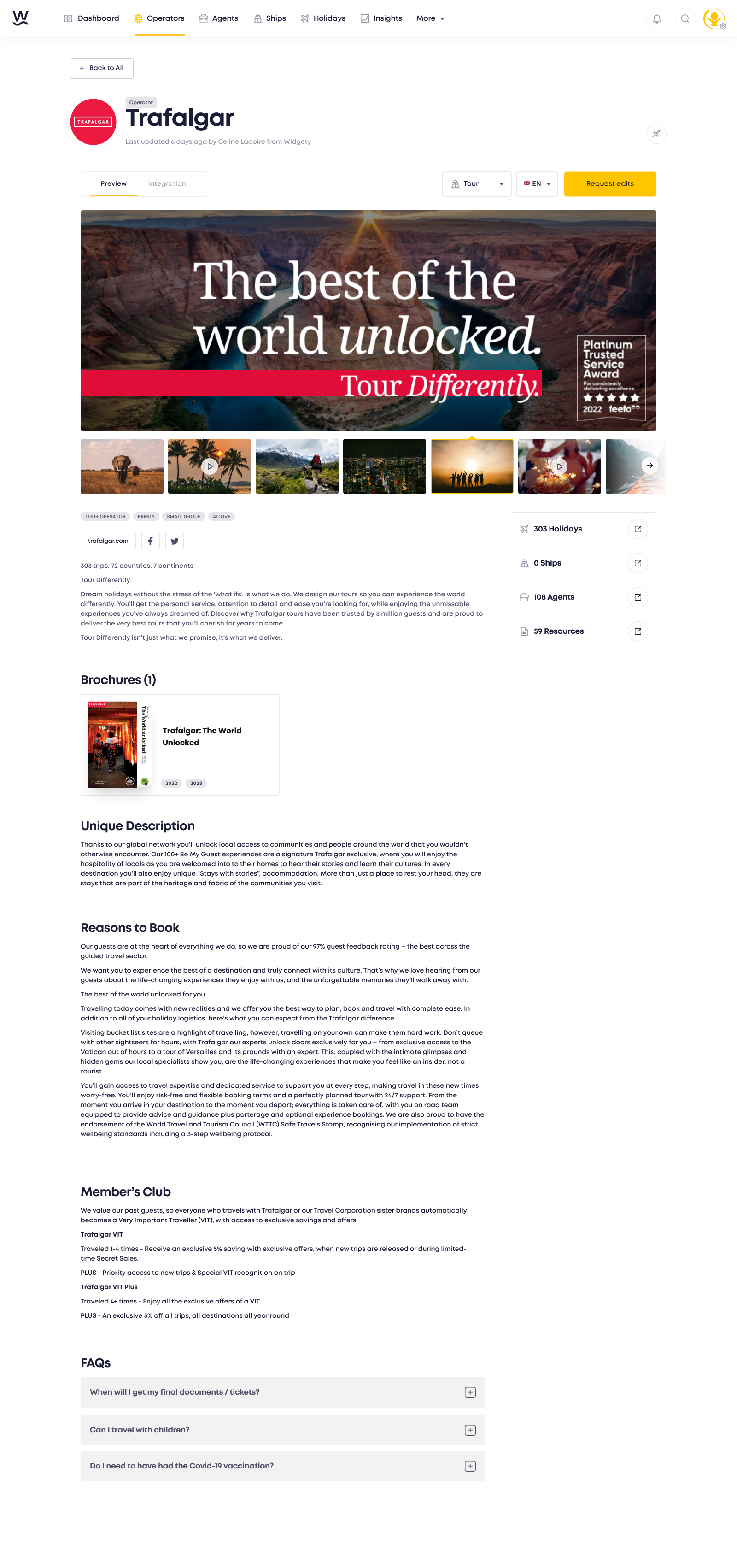 If the pandemic has taught us anything, it's that things can change at the very last minute, with little to no warning. Changes to covid policies, itineraries, mask mandates and more can be updated instantly to all of your travel agent partners; they don't have to do anything but read their notifications on Widgety, which they can choose to have emailed to them if they prefer. 
This also applies to any last minute sales or offers you have; anything via an API or flat file can be updated automatically, or holidays and pricing can be amended manually. 
Brochures and resources are costly to print, and even more costly to re-print if something has to change. Widgety allows you to add resources to the platform that can be removed at the click of a button, but they can also have drop-off dates, so once they become irrelevant they'll disappear from agent's dashboards.
In the future we'll be adding the ability to include put events, promotions and news items on the platform too. 
Don't have a feed or API? No problem.
Simply fill in our easy spreadsheet and we'll integrate the holidays you provide. Add new itineraries and change pricing as often as you like.
Once we've integrated them, you can pull the holidays back through our Widgets or API, giving you a fully functional, accurate feed of your own data; and your travel partners can have it too.
Use Widgety as your image library, store resources and keep everything neat and tidy in one place.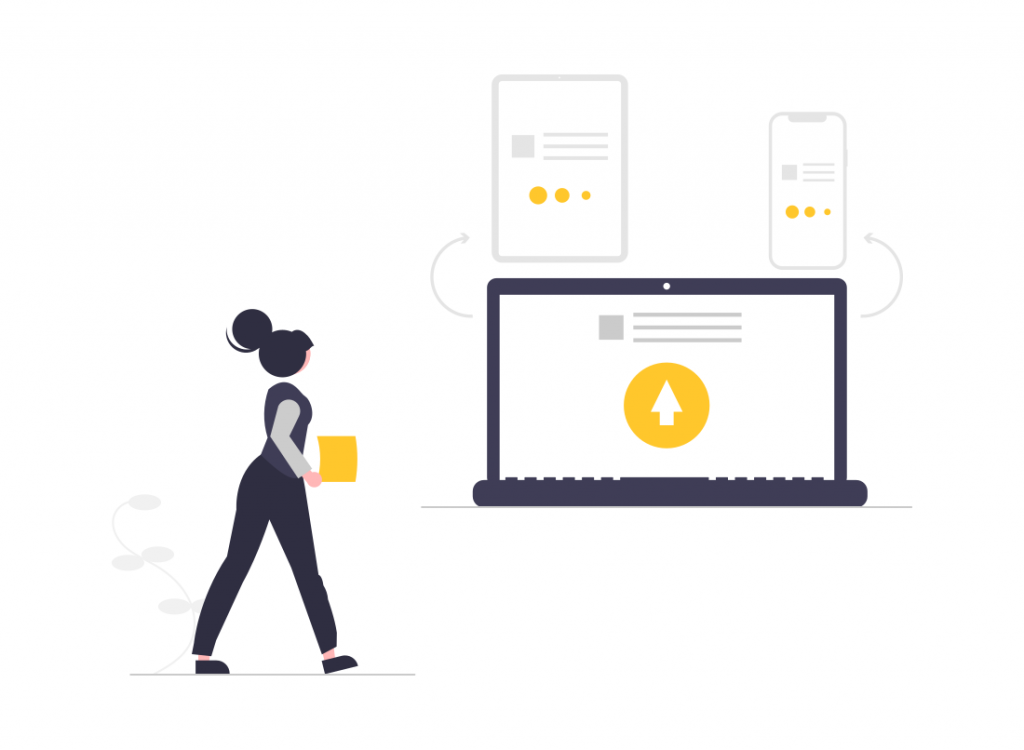 Available for every travel agent to access, Widgety is upgrading the brochures we take in from cruise lines and tour operators to include trade resources such as selling guides, trade brochures, window cards and social media tiles. 
Agents will be able to access all trade resources across cruise, tour, destinations and third parties in one place, as agreed by their head office.
Widgety have been working with groups such as Advantage, MidCounties, Inteletravel etc to ensure that the suppliers they have agreements with can feature their resources and feed them directly to each member. 
It's designed to save cruise lines and tour operator trade teams time, and to help back up your marketing efforts.

Widgety works with the majority of travel agents in the UK, from small independents, to consortia, to the largest homeworking groups. We have a solution to suit all budgets and all levels of IT ability. 
There are four main ways that agents can access your content, click on each option below to find out more: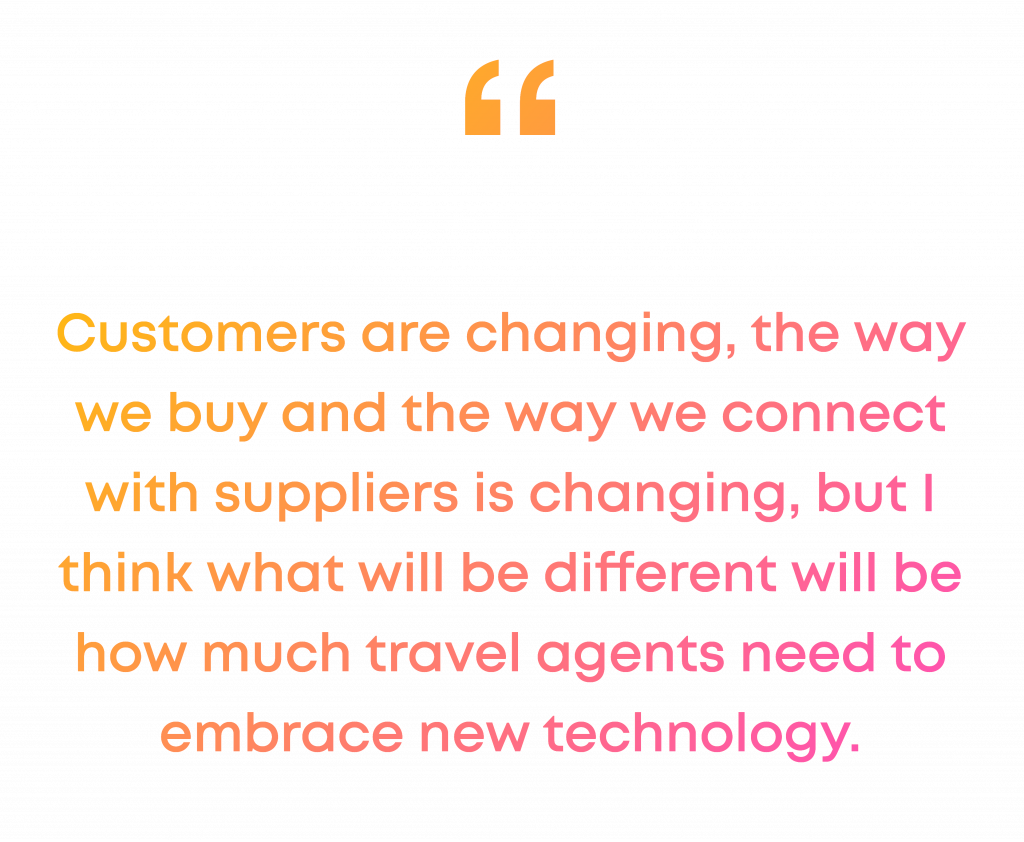 Andy Harmer – Director, CLIA UK & Ireland