On 29th – 30th May 2022, our Partnerships Manager Scott was invited to join a select group of guests onboard the brand new Holland America Line ship, Rotterdam, for her christening and a short celebration cruise. Here's what he had to say about the stunning brand new ship.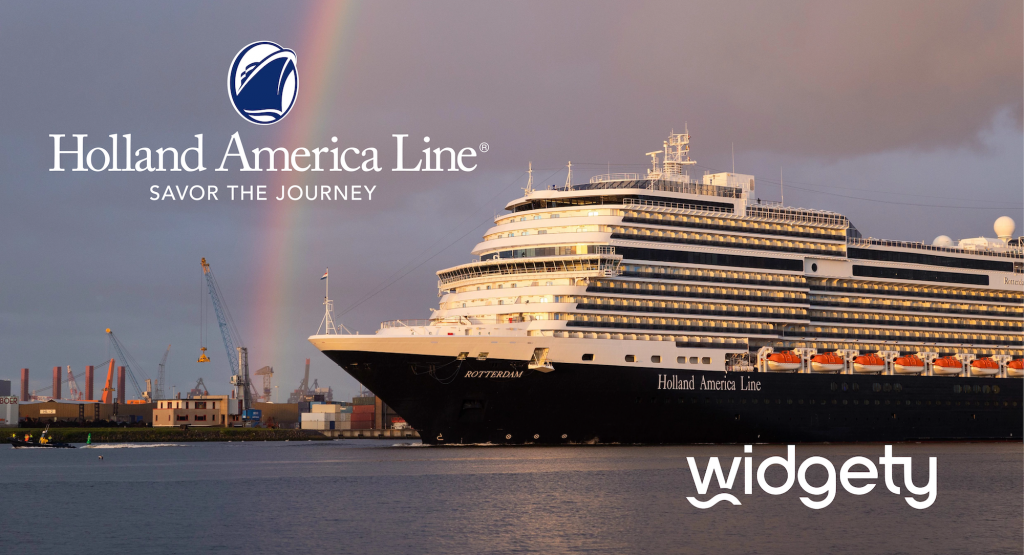 The new Rotterdam, from Holland America Line, is actually the seventh ship to bear this name. Rotterdam V is still around, acting as a floating hotel located in, well, Rotterdam, whilst Rotterdam VI is now sailing as Borealis for Fred. Olsen Cruise Lines.  This new Rotterdam, the flagship for the Holland America Line fleet, is the third ship in the pinnacle class of ships, the other two being Koningsdam and Nieuw Statendam. 
I boarded the ship in Amsterdam, and quickly found my way to my balcony stateroom on deck five. I was really impressed with the spacious bathroom and shower area, complete with luxurious Elemis toiletries. Holland America Line have done away with the single-use small toiletries bottles and instead you have larger bottles of shampoo, conditioner and shower gel affixed to the wall. Likewise with hand soap and body lotion. The shower area was large and thankfully there was no dreaded shower curtain, a nice glass door finished the luxury look. The stateroom itself was roomy, with lots of clever storage – from draws and wardrobes to wall mounted cupboards where the life jackets were stowed out of the way. 
The bed was really comfy and I was pleased to see that on both sides of the bed there was a reading light and USB port, along with a plug socket for charging those gadgets that have become vital in our lives now. The interactive flat screen TV was set back in the wall so it didn't stick out and there was a writing desk with comfy sofa opposite. Decor was neutral tones with aqua accents and the whole room looked welcoming and calming. The spacious balcony had teak effect flooring with room for two chairs and a table. After unpacking I went to explore this new ship!

Feeling a bit peckish, I headed to the Lido area which features a covered pool and dining space. This is a great area to relax and the sliding canopy means you can enjoy the space whatever the weather. It wasn't too hot in there either as the roof was open a bit for some ventilation. Three hot tubs plus the pool complete the Lido space. 
I've gone into a bit more depth about the dining and entertainment on board below.
Having heard great things about the Dive In burgers, I headed there and ordered the Cannonball, which came with Gouda cheese, applewood smoked bacon, sweet caramelised onions, topped with lettuce salad and sliced tomato served on a toasted brioche bun with Dive In sauce. It soon arrived and I have to say I was not disappointed, the burger was delicious and it's up there in my top three fave cruise ship burgers! They also serve hot dogs here if you don't fancy a burger. Other foodie options in the Lido area include the New York Deli and Pizza and a Gelato bar.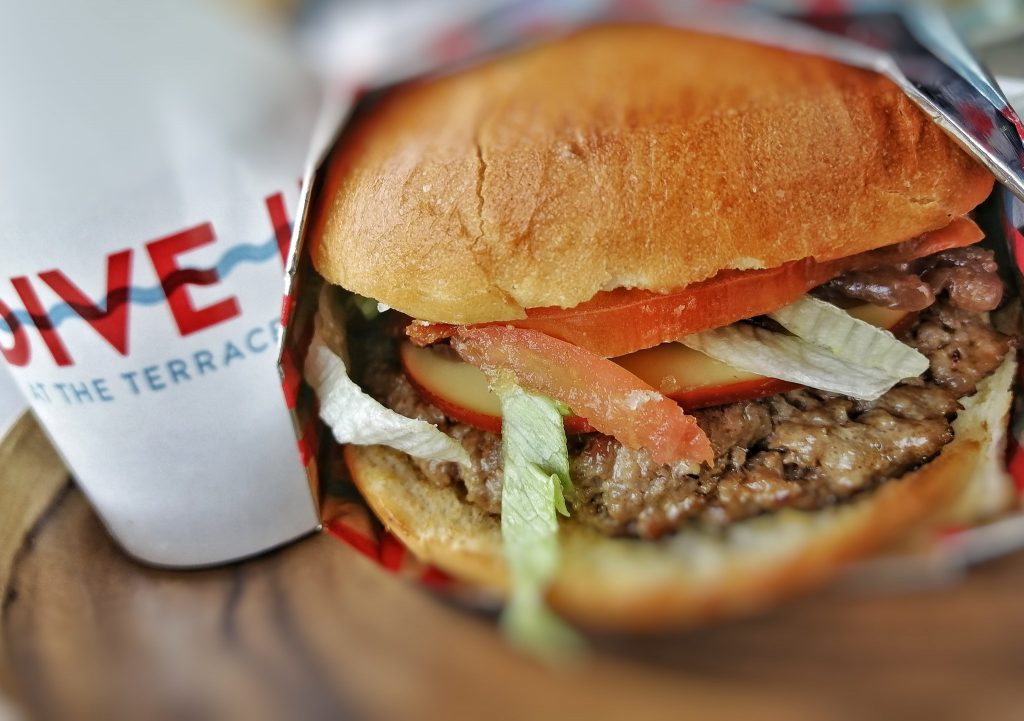 Exploring further on the Lido deck brings you to the Lido Market, which is the traditional cruise ship buffet area. Instead of one long line of dishes, the area is divided up into different sections serving different food, such as Homestead, Breadboard, Sweet Spot, Distance Lands, Wild Harvest, Roasting Pan, Rise and Quench. The area worked well and there was plenty of seating indoors and out.
Other dining options include, of course, the main dining room, plus the alternative specialty dining areas that are chargeable. 
The Pinnacle Grill is the steak house/seafood restaurant

Tamarind is a fusion restaurant combing the culinary traditions of Southeast Asia, China and Japan 

Nami Sushi is located at Tamarind and showcases the recipes of master sushi chef Andy Matsuda 

Canaletto serves up authentic Italian favourites featuring home made pasta

Rudis Sel de Mer is an intimate brassiere featuring French dishes reimagined by master chef Rudi Sodamin

Club Orange, a private venue offering an expanded menu reserved for Club Orange guests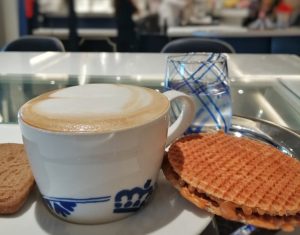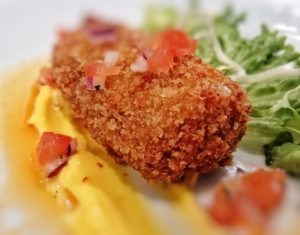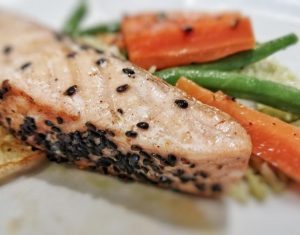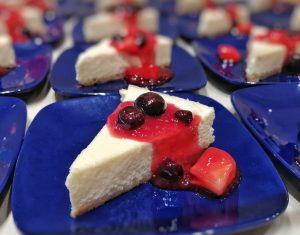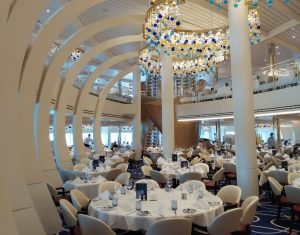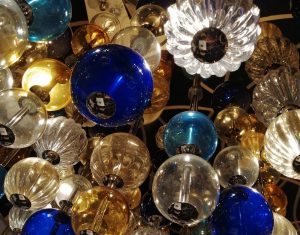 I ate in the main dining room whilst I was onboard on my 24-hour whistle stop visit, and I was impressed with all my meals. The decor features sweeping curved supports that welcome you into the two deck high space, whilst gold and blue glass lighting punctuate the warm white tones with flashes of colour.  For dinner I started with croquettes followed by a delicious salmon dish, rounded off with a very light lemon cheesecake. Other items on the menu included lasagne, monkfish, tomato and mozzarella salad, along with half a roast chicken!
Breakfast didn't disappoint either, with my Eggs Benedict Dungeness served promptly and was delicious – washed down with coffee, juice and I might have had a muffin too! 
The main entertainment decks are on deck two and three with a strong focus on live music from really excellent artists over five unique stages. You could wander from one venue to the next and hear an eclectic mix of musical styles.
Lincoln Centre Stage is in partnership with New York's Lincoln Centre for the Performing Arts and the extremely talented musicians play classical music

BB Kings All Star Band brings the soulful sounds of Memphis to sea. After our dinner we all headed here and the band were really excellent. The female vocalist from Texas had an exceptional voice, and she soon had the guests up dancing and singing along!

Billboard Onboard offers over 70 years of chart topping songs with an all request set each evening

Rolling Stone Rock Room, here the band performs classic rock hits made famous by the legendary artists in Rolling Stone Magazine

The World Stage theatre is at the aft of this deck and is a two deck high room featuring a circular stage with led screens stretching around the sides. We didn't see a performance on this trip but I have seen a show in the same space on Koningsdam and it's very immersive and quite spectacular.

There's plenty of bars on board too and a new addition unique to Rotterdam is the Half Moon Bar, offering up Holland America Lines story told through the lens of different cocktails. If I had more time on board I would have definitely tried a few drinks here!
The Notes whiskey bar serves aged and vintage blends and single malts, and one of my favourite places, the Grand Dutch Cafe, serves coffees, light bites and Dutch treats. I had a delicious cappuccino here with a couple of stroopwafels!
Anchoring the main entertainment decks is a modern twisted sculpture that spans three decks and it is certainly impressive.
Out on the open decks there is a sports area with a full sized basketball court and a sun bar overlooking the aft of the ship. For the top suite guests, there is also the Retreat area, with private cabanas and hot tubs. CLUB HAL is onboard too offering kids activities – however this area was closed when I was on my lookaround.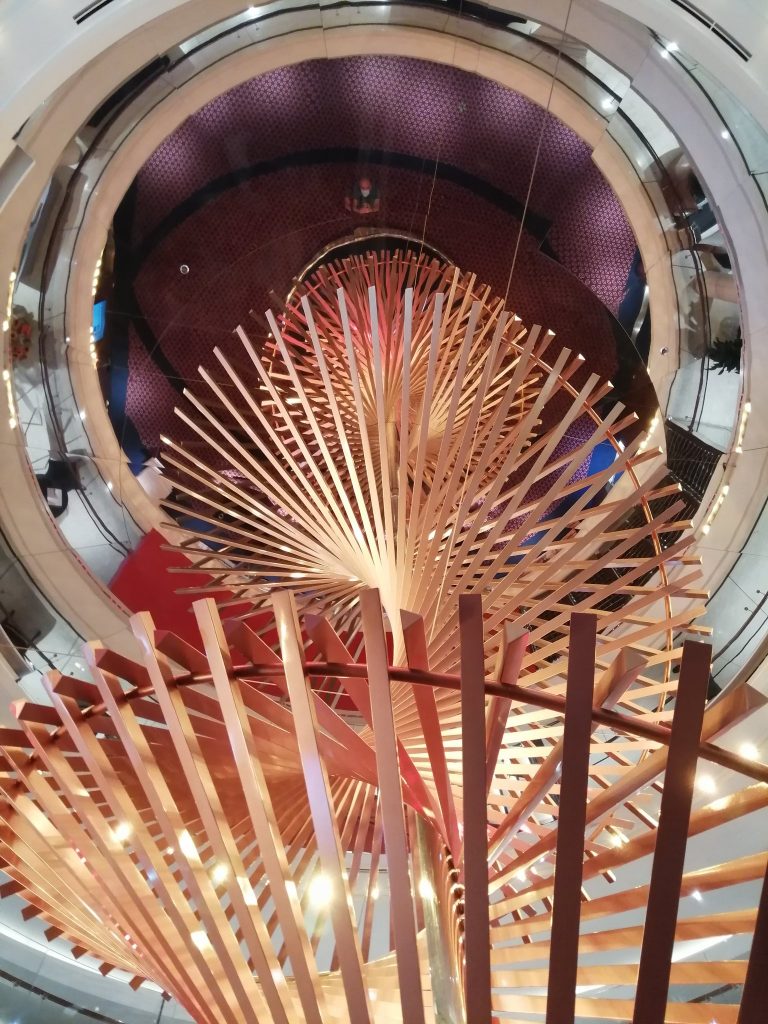 What I really loved about this sophisticated ship was the art and sculptures on board. From wild and wacky to sublime and thoughtful, every deck, foyer and stairwell has an interesting piece to look at and admire, with the total collection estimated to be worth some $4 million dollars. My particular favourite was a multicoloured geometric Otter by the Spanish artist Okuda San Miguel.
All the crew were super friendly and genuinely happy, with plenty of 'hellos' and greetings as I walked around the ship, and prompt service in the bars and restaurants.
I only had 24-hours on board but I can truly say I was very impressed with the sophisticated ship, food, entertainment and crew, and would love to take my family onboard for a longer holiday.
Holland America Line are currently offering their 'Have It All' package, which means that the following are included with every fare:
LIMITED TIME: US$70 Onboard Credit Included per stateroom (at time of writing, 31/05/2022)
2 Shore Excursions (up to US$200 per guest)
Drinks package
Gratuities
Speciality dining experience
Wifi
Cruises on Rotterdam are currently available from as little as £589pp in their current sale for summer 2022 cruises.