Embedding a widget on facebook
16/04/2018 – Unfortunately Facebook have tightened their restrictions again due to recent data breeches, and now pages with less than 2,000 likes are unable to create a new tab. This is a global issue that affects thousands of companies around the world, and we are working with our partners to find a solution that complies with the new security rules. If your page has 2,000 likes or more the guide below should work as normal.


28/03/2018 – Due to new restrictions on Facebook, this guide has changed and been updated accordingly. If you have embedded Widgets previously, adding a new tab will now be slightly different. This fix is unique to Widgety.


All What's On, Where to Go, Visitor Information and Brochure Rack Widgets can now be easily embedded onto any business Facebook page, simply follow the guide below to do so.
Administrative rights to the Facebook page you wish to put the Widget on.


The iframe embed code for the Widget, found in the Widget Factory (Note: The block quote code will not work, it must be the iframe code).
Go to https://apps.facebook.com/static_html_plus/ and click on the big green button that says 'Add Static HTML to a Page'.

Select the page you wish to embed the Widget on from the drop down menu, and click 'create tab'.

This will take you to the newly created tab on your Facebook page. Click on the green button that says 'Set up tab'.

This is where you will need the embed code for the Widget. In the text area, delete all of the existing text and paste in the embed code. (TIP: if the right-click menu doesn't work, press ctrl + v on a PC or cmd + v on a Mac to paste).

Click the blue button that says 'Save & Publish'. The Widget will now be live on your Facebook page.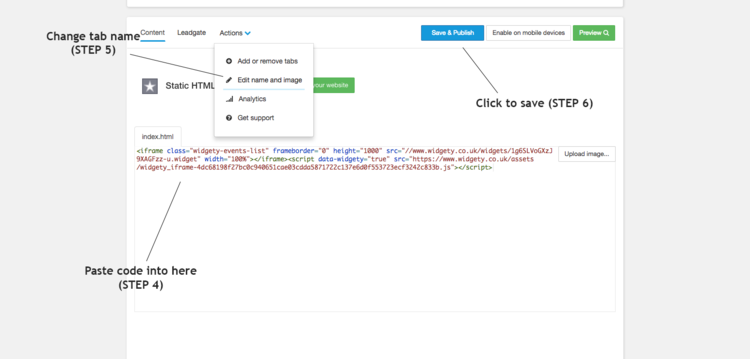 The new tab will be called 'Welcome' or 'STATIC HTML#' by default. To change this, you need to:
Go to your Facebook page and click on 'Settings' in the top right corner.

Click on 'Edit Page' in the left navigation. This should bring up a list of all your Facebook tabs. 

Find the tab you want to change the name of and click 'Settings', and then 'Edit Settings'.

Add the new name in the 'Custom tab name' box and click on 'Save'.
TO ADD ADDITIONAL WIDGETS
To add a second Widget, you will need to go to this URL, and then follow the same process as before from step 2.
For more tabs, you can use the following links:
For even more tabs please get in touch.