Making the most of the Cruise Search
When we talk to travel agents we're often asked the same questions; 'How do I use the Cruise Search?' and 'What can I do with it?', so here are our top tips and uses for the Widgets that you might not know about.

The Cruise Search has a lot of content in it. Not just the itineraries and pricing, but also maps, destination descriptions, fare sets, availability and a huge wealth of ship information. We have over a thousand ships on the Widgety platform, and while you might not feature that many on your Widget, every single one of those has information on cabins, deck plans, dining options, entertainment on board, children's facilities, wellness opportunities, enrichment and FAQs, all with images and descriptions.
You can use the Cruise Search to find information on over 1,000 ships

You can use the Cruise Search to populate multiple pages on your website, for individual cruise lines, destinations and more. This requires a tiny bit of technical knowhow but we've written a step by step guide that you can use here.
A great example of this in action can be seen on the Paul Cranny Travel website. There is a Cruise Search for different operators on different pages, meaning that they don't have to worry about maintaining cruise information or doing the development to integrate our API.
The Cruise Search is designed to interact with your website, and every time you click something on the Widget, the web URL changes at the top of the page. 
By having a unique link for every click, you are able to share exactly what you're looking at, whether that be directly to a customer, or, like Paul Cranny, create a new page specifically to show certain content.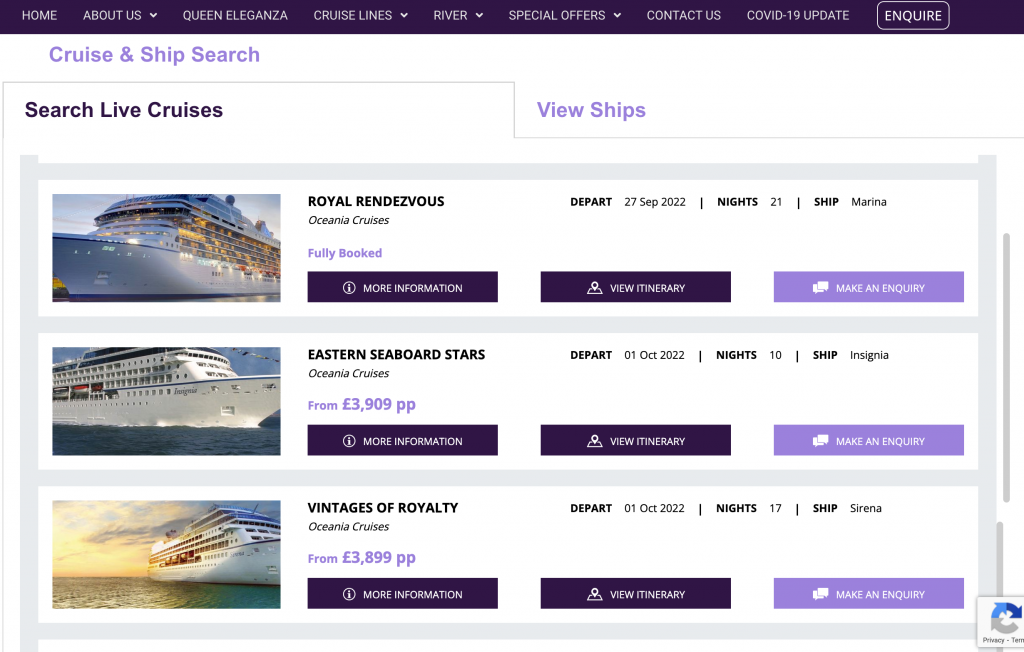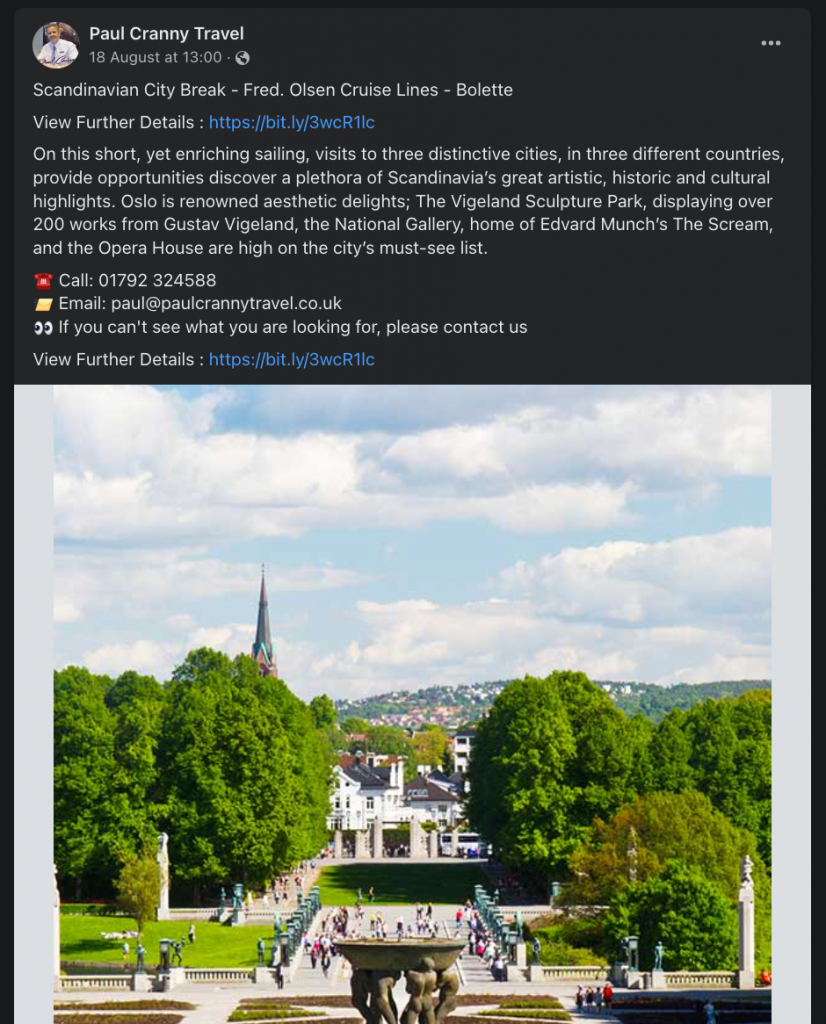 Say you were running a promotion on Fred. Olsen Cruises because you know they're running a special offer on trips to Scandinavia; you could do the search on the Widget and then take that URL to:
Share on your Facebook page. Add some images of the destinations to the post, mention the special offer and invite them to click through to view the cruises.
Include it in your marketing emails. Run a weekly newsletter focusing on individual cruise lines, destinations or anything else. Use the Cruise Search to create the search, and then make that the click through link from your emails.
Send it directly to a customer that's looking for a cruise. If they've recently contacted you and you think this cruise might be perfect for them – you can send them the link via WhatsApp, Messenger, email or anything else.
Talking to a Travel Agent
We spoke to Paul of Paul Cranny Travel and he had this to say;
"The Cruise Search is fantastic, it's really affordable for a small agent to have this much content on my website". 
As you can see in the image above, at the time of writing Paul was pushing out a promotion for the latest Fred. Olsen offers, with a simple link back to the dedicated Fred. Olsen Cruise Lines page on his website. 
"Being able to push out cruises to my database via email or through social media, and to trust that everything matches up on the website, saves me a huge a mount of time. It's really empowering".
"It's great for new-to-cruise customers to be able to find a cruise on my site and call me".

Here are some other ideas for improving the way you communicate results from the Cruise Search:
Use a link shortener – You'll find that each time you change something on the Widget, the URL gets longer. You can create a free account on bit.ly which allows you to shorten any link to something less intimidating, plus it will track clicks to show you how many people have clicked on your link and where from in the world. 
Use images and video – There are free websites such as Unsplash and Pexels that give you royalty-free stock video and images to use in your marketing. If you don't have anything to hand, simply search through these and download something to match. Social media posts with images and video have a much higher engagement rate than those without!
Get creative! – One of the best online tools you can use to create eye catching materials is Canva. With thousands of free templates, it's easy to make something to use in your marketing. Simply upload your logo and/or images, drag them into the design and you're ready to go. 
We hope you found this useful to maximise the Cruise Search, and thanks to Paul for talking to us!