Using the Widgety Brochure Rack
The Widgety Brochure Rack is our most popular Widget, and over the years it has had a multitude of uses including consumer-facing brochures, trade-only resources and, once upon a time, tourism leaflets for the New Forest National Park. 

The idea behind the Brochure Rack is simple, it's a virtual set of shelves that can display any PDF that we have on the system, and more importantly it's completely customisable, allowing you to choose exactly what's on the Widget or not.
Every cruise line and tour operator we work with can add resources to the Widgety platform, these can be tagged and given a drop-off date. The drop-off date means that as soon as that resource expires, it disappears from the system and from every Widget it was on, so you never have to worry about looking at out of date holidays. 
There are resources
 from over 100 
operators on Widgety

We categorise resources by type, such as brochure, map, selling guide etc, and everything is named accordingly so it can be quickly and easily found using the search function. 
It also works on any device, and looks great on a mobile, giving you access to all the resources available to you at any time, any where. 
You can embed the Widget anywhere that accepts HTML; on your own website, intranet or back end system. We can also provide you with a standalone link to the Widget if you don't have anywhere to embed it.
The days of the printed brochure are arguably behind us; they go out of date quickly, cost a lot to produce and aren't great for the planet. We've estimated that to print one 100 page A4 brochure has the same carbon footprint has having a modern monitor on for around 47 hours*.
Furthermore, as more agents move towards home working and away from in-branch working, having resources at your fingertips is vital. We know that agents are contacted at all hours of the day via a range of modern and traditional forms of communication – rather than having to send a brochure out in the post the Brochure Rack allows you to quickly find and share what the customer is looking for. 
Some customers preferred the days of thumbing through brochures, and this is hopefully a happy middle ground that saves both time and trees.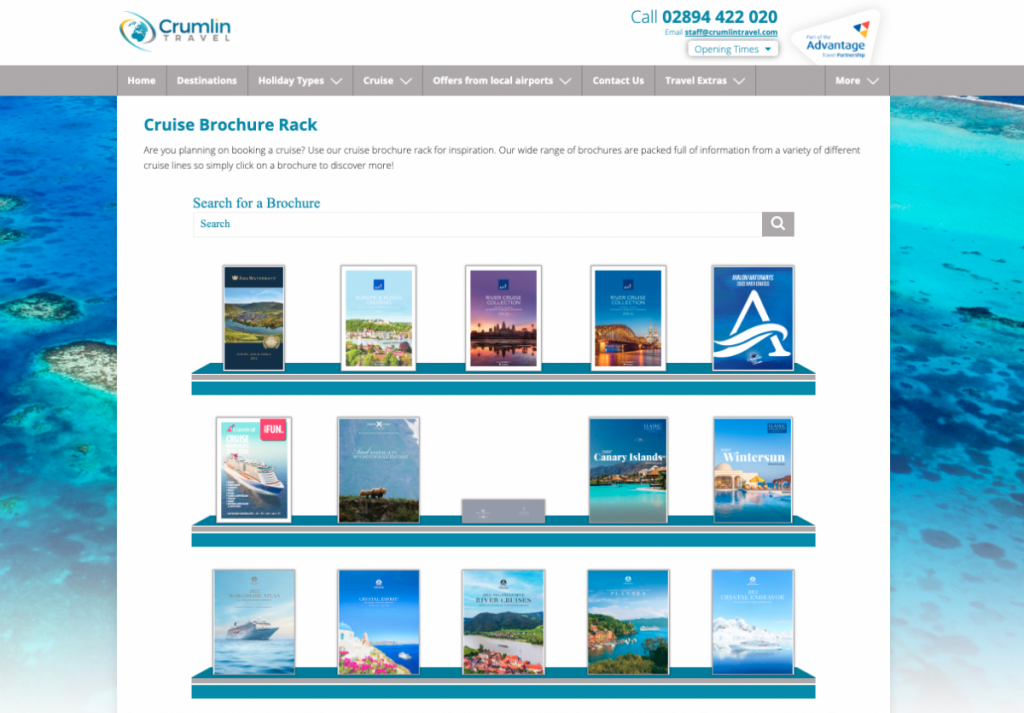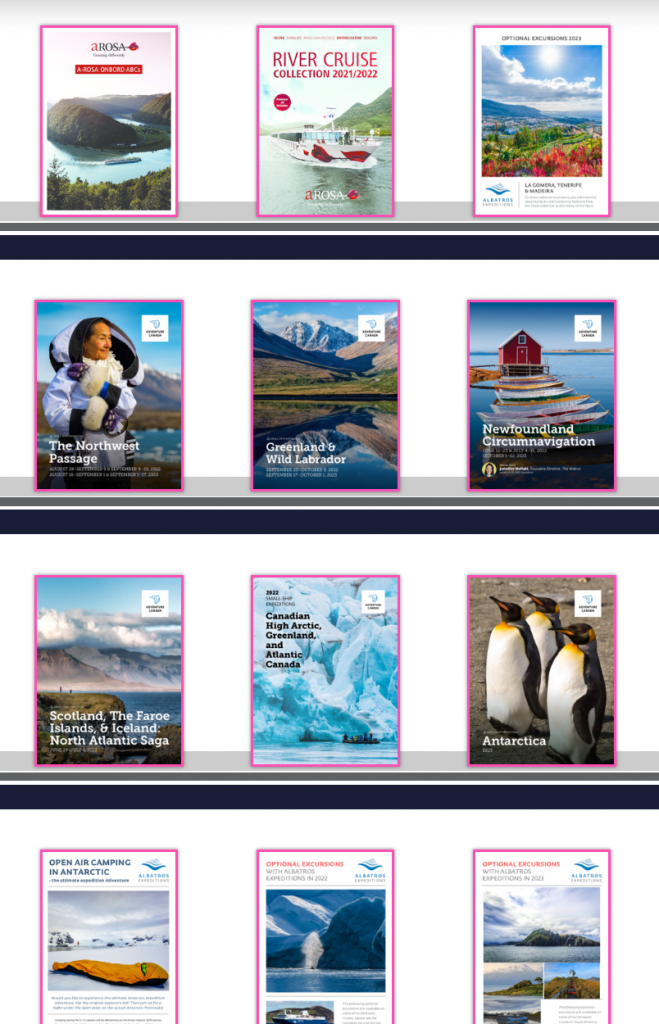 As with our Cruise Search, every brochure has a unique URL that can be shared. This means you can use it in a variety of places including;
On Facebook or other social media platforms
In e-shots, newsletters or promotional materials
On WhatsApp, Messenger, Telegram and other forms of communication
The Brochure Rack is free to all travel agencies and is completely customisable. Some of the option

s you can control are:
Show only brochures from operators you work with
Feature cruise, tour, or both
Change the colours to match your branding
And the typography 
Pagination and the search bar are optional and can be shown or hidden
The number of brochures per shelf, and the number of shelves per page

Here are some other ideas for improving the way you communicate results from the Brochure Rack:
Use a link shortener – You'll find that for each PDF you open, the URL is long and difficult to work with. You can create a free account on bit.ly which allows you to shorten any link to something less intimidating, plus it will track clicks to show you how many people have clicked on your link and where from in the world. 
Use images and video – There are free websites such as Unsplash and Pexels that give you royalty-free stock video and images to use in your marketing. If you don't have anything to hand, simply search through these and download something to match. Social media posts with images and video have a much higher engagement rate than those without!
Get creative! – One of the best online tools you can use to create eye catching materials is Canva. With thousands of free templates, it's easy to make something to use in your marketing. Simply upload your logo and/or images, drag them into the design and you're ready to go. 
We hope you found this useful to learn about the Brochure Rack, if you have any questions please get in touch. 
*We're happy to show you our working of this if that's your thing!