All Aboard: Celestyal Olympia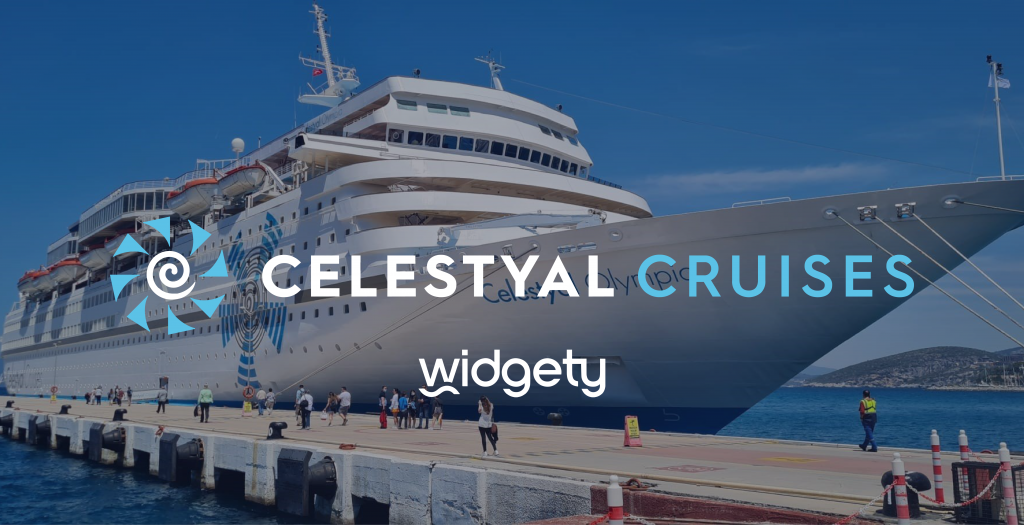 Last weekend I was invited to join a small group of UK agents and partners on a fam trip on board Celestyal Olympia. Not one to say no to a weekend trip to Greece, it took approximately 2 seconds of deep thought to reply saying I was in.
Celestyal Cruises, previously Louis Cruises, were formed in 2014, and have two ships sailing around the Greek Islands, Turkey and the Eastern Mediterranean. The ships are small and intimate, and passengers come from all over the world; here's a little review of the experience.
If you'd like to know more about Celestyal or sell the brand, you can contact Penny Moschidou, Commercial Assistant, Western and Northern Europe at p.moschidou@celestyal.com, or let us know if you'd like them switched on on your Cruise Search, Brochure Rack or API key. 
Let's start with the basics; Celestyal Olympia is an older ship, built in 1982 but fully refitted in 2016. It can accommodate 1664 passengers across 10 decks, and supported by 540 crew.
Celestyal make no pretences that the ship is ultra-luxury and they're not trying to hide her age; the Olympia is well maintained, comfortable and clean, and as a destination-focused cruise the older style of ship didn't negatively impact us at all. As one person described it, the ship itself is 3 star, but the excursions, service and food is a 4 star experience.

The cabins are slightly smaller than average and only the 9 balcony suites on board have a window that opens. However, all include twice daily housekeeping, an ensuite, toiletries and bottled water. We spent such little time in the cabins that this didn't matter, the beds were comfortable and the showers were hot.
There's everything you'd expect on board, including shops, a spa, a casino and plenty of places to eat and drink. There was entertainment every night after dinner, ranging from circus acts to traditional Greek shows. The shows are vibrant and tell stories through colour and movement rather than words as there are so many languages spoken on board at all times, so there's no worry about not being able to understand what's going on.
Every single member of the crew that we met was amazing, and genuinely far exceeded the 3* nature of the ship. Everyone was friendly and couldn't do enough to help; from housekeeping (I'm a sucker for a towel animal) to the singing waiters.

Destinations & Excursions
The excursions and destinations is where Celestyal really stand out. Over 3 days we visited 6 ports, and had an adventure at every one of them. 
I've detailed the three days below, but as an overview the stops were Athens, Mykonos, Kusadasi, Patmos, Heraklion (Crete) and Santorini, before heading back to Athens.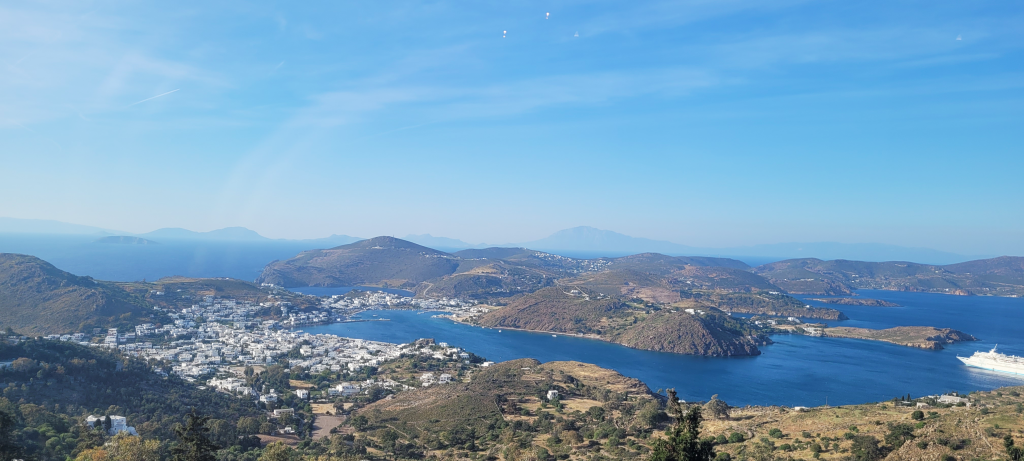 We sailed from Lavrion, just outside Athens at lunchtime and disembarked for an evening in Mykonos, where we had a walking tour, a gyros and then stopped in a waterfront bar for a few hours before heading back to the ship for dinner and entertainment.
If boutique shopping and fashionable bars are your thing, Mykonos is sure to be a winner. The beautiful little streets go on forever, and it would be easy to spend a few days or more just wandering. 
The ship arrived at Kusadasi on the east coast of Turkey early morning and we'd disembarked by 7am for our walking tour of Ancient Ephesus. As a bit of a history nerd this was one of my highlights of the trip; we spent 3 hours exploring, and were left with just enough time for a quick run up to the top of the ancient theatre for those who dared (which turned out was only two of us!).

After Ephesus we stopped at a traditional Turkish rug workshop where we learned about how rugs are made, had a quick light lunch, and met possibly the happiest dog in the world. Lastly we had a whistle stop tour of Kusadasi market for some very authentic designer shopping before jumping back on board for lunch and departing for Patmos.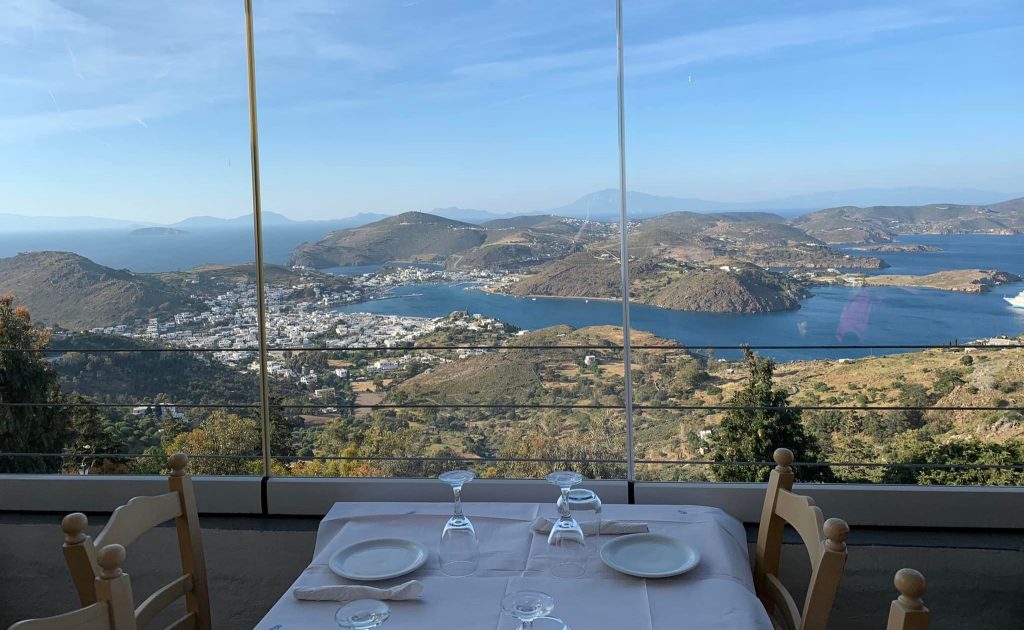 Patmos is a small Greek island with a rich history, and is a famous site for Christian pilgrimages. We visited 'The Cave of the Apocalypse' and then the Monastery of Saint John the Theologian at the top of the hill, where we learned how Saint John received the visions found in the Book of Revelation of the New Testament. The monastery dates back to 1088.
Lastly we stopped for Greek mezze at a restaurant with stunning views before heading back to the ship.
Day 3 was no less intensive, and we met at reception at 7am, where we were treated to our Heraklion excursion, which began with a tour of a Raki distillery.
The distillery owner, Mr Vassilis, shared his family history with us and gave the most motivating speech that brought many of the group to tears, before inviting us all to drink 45% proof Raki at 9am and learn some Greek dancing. When in Rome (or Crete) right?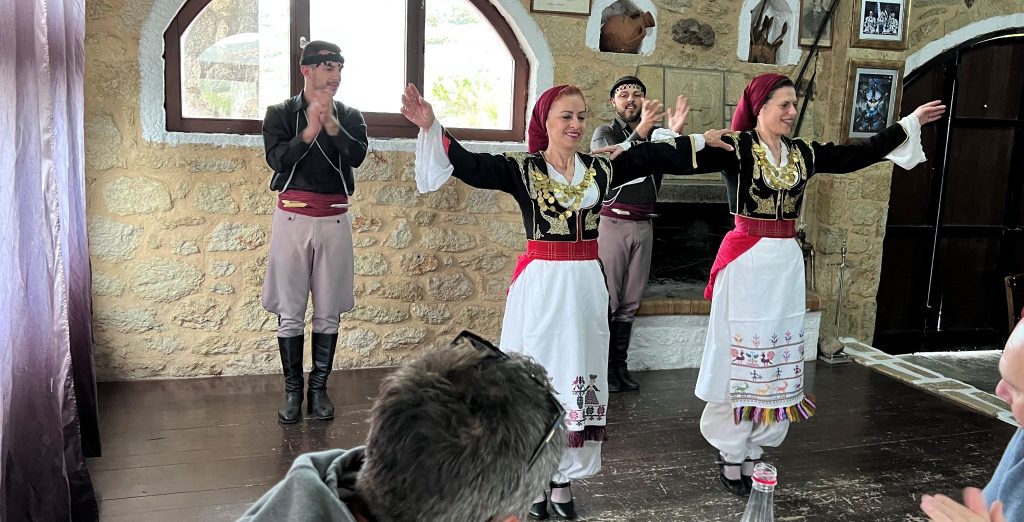 Back on the coach and slightly merry, we were taken to the town of Heraklion for a short walking tour and some free time, before getting back to the ship for lunch as we set sail for our final stop of the trip – Santorini.
In Santorini we drove to Oia village for more wine tasting and a walking tour of the town. Unfortunately the weather that had been so kind to us finally gave out and we didn't get to see the famous Santorini sunset, but the views were still stunning and a very merry time was had by all.
Back on the ship we had our final dinner of the cruise, followed by more entertainment and then some last-night celebrating.

In true Celestyal Olympia fam trip style, we were off the ship in Athens at 6:20am the next morning to catch our flight home. Two members of our group had an evening flight and even managed to squeeze in a tour of Athens and the Acropolis before departing.
Celestyal offer 3, 4 and 7 night Greek Island cruises on board the Olympia, and I'm told that the 3 day trip is the most intensive. As we had priority disembarkation for each destination it meant that we were up super early every day, and because the company was so great we were in bed far too late as well. There was also a few hours downtime each day to grab a drink or a nap on the ship in-between destinations.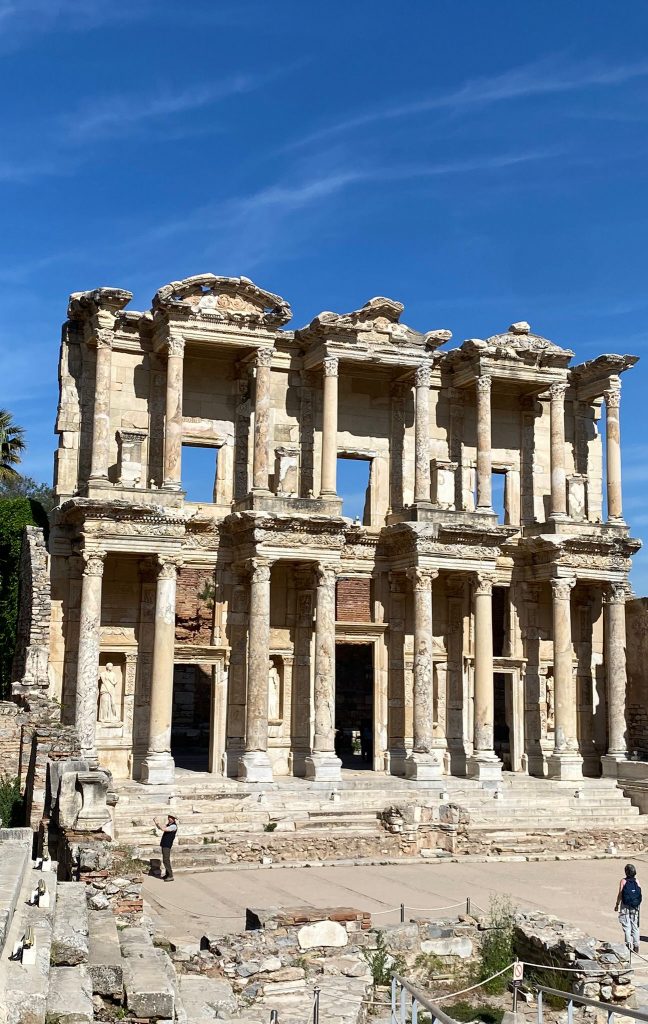 As you can probably tell, I had an absolute blast on this trip. For me the highlights were definitely the Ephesus excursion and the Raki distillery, but at every stop we learned something new and the excursions took us to places we might not otherwise visit. The cocktails were good and there was always a vegetarian option available at meal times.
Things I didn't like so much? It was raining in Santorini so we didn't see a sunset, but I suppose I can't blame anyone for that; and the hangover I had on the last day, which again is no one's fault but my own (and maybe a couple of other people's faults too, but I'm not naming and shaming).
I also wasn't a huge fan of the buffet lunch we had on the second day, which felt like a bit of a free-for-all and got very crowded very quickly – I'd go to the grill on the deck next time.
Celestyal only have a small percentage of the UK cruise market, and personally I think that the age of the ships is part of the reason for that. With such large, new ships being announced all the time it's easy to see how one that's been sailing for 40 years can be overlooked. But Celestyal Olympia is charming in size and an overall great ship, with fabulous service and food.
I wouldn't describe this cruise as particularly accessibility-friendly, there are a number of accessible cabins on board and there is a lift to all of the decks (apart from the outside bar at the top) but unfortunately just due to the age of the ship the Olympia isn't as dedicated as more modern ships.
Two of the ports were visited by tender, and because of the nature of the destinations many of the walkways are uneven and ancient, so someone with mobility issues might have to miss a couple of the stops.
Could there be a new ship added to the fleet one day?
For anyone that wants an affordable, destination-focused, cultural experience it's certainly a great option. Although if you're after a more relaxed schedule I'd suggest going for a longer cruise than the 3 day.
2022 cruises start from £369 per person, and all of them include the following;
Dining
Classic Drinks
2 Shore Excursions
Gratuities
Entertainment
Celestyal Promise
Thank you so much to Jo and Penny from Celestyal for inviting me on such an amazing trip, and to the fam trim gang for being such great company – even if I will be catching up on sleep for a few days.