An Interview with Mundy Cruising
Founded in 1970 as the very first cruise specialist in the UK, Mundy Cruising are a travel agency that continue to grow. With almost 50 years experience and incredible knowledge of the luxury cruise market, the team offer unrivalled customer service to find the perfect cruise for everyone.
Keeping up to date with all the new advancements in cruise is tricky, so we spoke to Alex Loizou, their Sales & Marketing Director, about how Mundy Cruising works with Widgety and what they provide to their customers.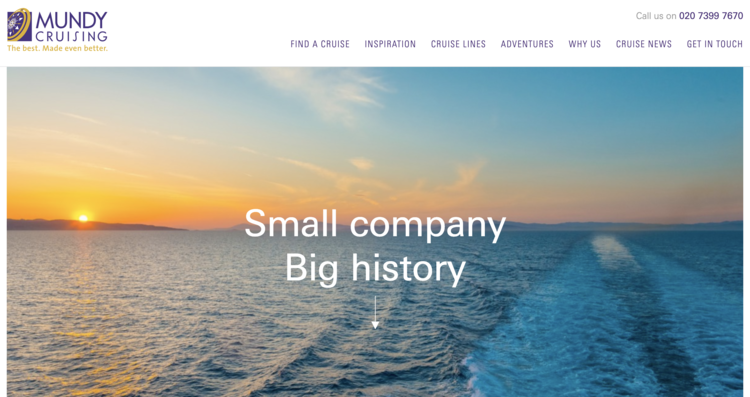 Hi Alex, thank you for talking to me. Mundy Cruising have been taking content from Widgety in various forms since as long ago as 2015, and the company seems to be growing exponentially each year. So, tell me more about Mundy Cruising?
Technology is definitely way behind in travel, considering the industry is so dynamic. Especially with so much being done online now.
Mundy want to have a conversation with every single one of our clients. We have a great office location in the centre of London and are more than happy for customers to come in and sit for an hour to chat over ideas. Most bookings are done over the phone. Our staff are genuine experts in luxury holidays (Widgety can absolutely agree with that!).
Online is increasingly important and rivalling traditional marketing channels. However finding the right cruise for a customer is incredibly complicated and cannot be built into a single webpage or through emails. Luxury and expedition cruising is in itself a complicated buying decision.
If a person is going away for two weeks or more they want a person's advice, from key information like which ship will suit them to smaller things such as booking the specialty restaurant for a sea day so you've got plenty of time to get ready.
The two websites are really all about getting people to pick up the phone. Marketing is often centred around a single itinerary on a page which, if it's not exactly what a customer is looking for, offers alternatives too.
Mundy Cruising do not have prices on the websites, why is that?
Prices are hard to quantify online for the luxury market, and there is a risk that a customer will think it includes everything, or that it's above a planned budget, not realising that the price may include all flights, drinks, a butler and the need to not actually spend any more money. With pricing comes risk, so it is a balance. Using the Widgety API and having the choice to remove flights from cruise packages is very important as the routes and fares available from cruise lines may not be the best.
We may revisit adding in pricing to the site as the level of detail from Widgety's pricing feed increases. However we do not want to reduce the number of enquiries that we get.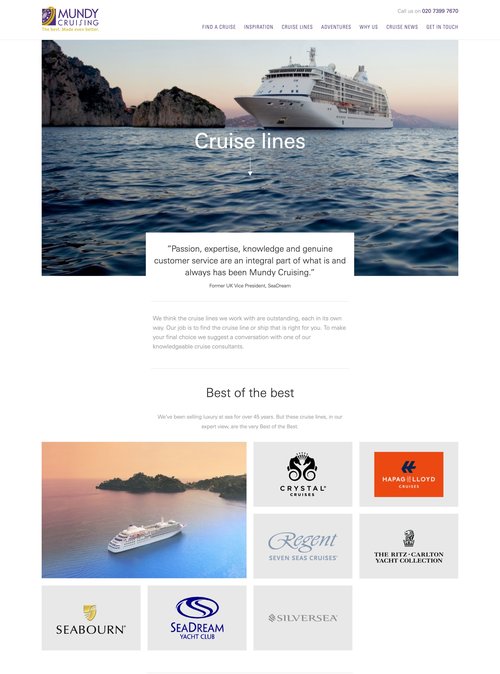 You have a real focus on the smaller luxury expedition lines, why is this and how does Widgety help?
We have the ability to manually add in inventories ourselves but we are determined to have an incredible level of accuracy. Therefore the new lines such as Aurora Expeditions that we can now bring in from Widgety allow us to build the dedicated pages needed to promote on our website. We would not have the time to create and maintain them otherwise.
We are very keen to grow our business and the smaller lines help shake off the negatives about cruising. Expedition is exciting; when you talk to people about going to the Galapagos or Antarctica they say "well that's not really a cruise is it?".
Pulling new customers onto the website is difficult however. Content needs to be not just why you go to Antarctica but the itineraries in detail. Smaller lines do not have big budgets and using Widgety as their marketing tool helps us to get the content and itineraries that we really need to bring the website to life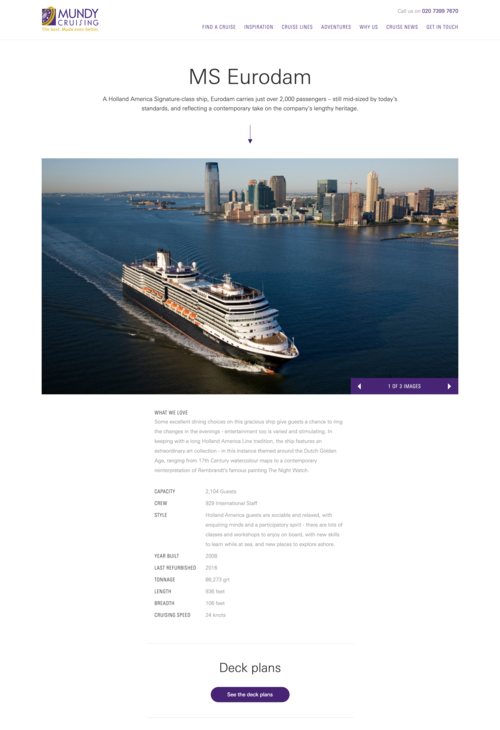 What are you looking for from Widgety for the long term?
Accuracy is absolutely key to us. So we want your help to keep up to date the content that we cannot do ourselves such as cabin layouts and individual images, the facilities on a ship and photography. We don't really want things such as the restaurant descriptions at the moment but definitely opening times if relevant, as well as images and menus. For itineraries we must trust they are accurate.
We use Widgety to tie in the content we need while ensuring the Mundy balance or opinion. The new fields and ideas coming through the API are incredibly exciting for us working together in the future on the customers' journey from enquiry to booking and following through afterwards.
Are you going to sell the more resort style luxury suites on say Celebrity Edge or Virgin Voyages' Scarlet Lady?
It is exciting what Celebrity is doing with Edge and new entrants pushing the boundaries of cruise is great. Virgin Voyages are making a lot of noise that helps push against some people's negative perceptions of cruise. However understanding what a luxury buyer wants and the experience they require is crucial. Some people don't want a large ship and may not be interested in having their own private section of a large ship to themselves. Others may think it's amazing to have a busy ship with their own sanctuary.
We won't sell anything unless we believe we are an expert on that cruise line. A lot of clients want the exclusivity of a luxury ship. Good space to guest ratio is important. Can you find that quiet little spot to read a book indoors by a window on a big resort ship? Knowing the ships in this much detail is important and helps us stand out.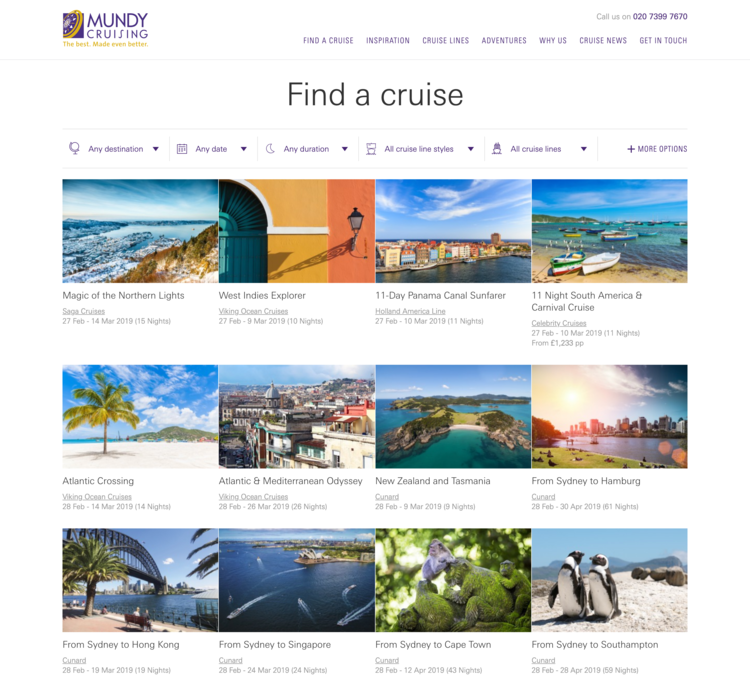 How do you feel about the cruise market in the future?
Mundy is growing year on year, cruise has always been a competitive market and that is not going to change. We have been through recessions and other problems before and cruise has continued to grow.
We just make sure we focus on the guest and think about what they will want in 5-10 years time. New customers are always a challenge, especially in the luxury end of the market, but a digital presence is definitely helping us a lot.
That's it! Thanks again for talking to us Alex. For more information about how Widgety can help provide cruise content, itineraries and ships to travel agents; or how a cruise line can get involved, you can give the office a call on 023 8042 8000, email us at damian@widgety.co.uk, or enquire through our website.