Operator in Focus: Nicko Cruises
Nicko Cruises specialise in small ship cruising on Europe's rivers, and have been doing so for over 30 years, but they are relatively new to the UK market. Now with a new UK-specific website and brochure, they hope to attract more river cruisers from outside of mainland Europe.
They have recently signed up to Widgety via their UK GSA, Light Blue Travel, and their itineraries, ships and pricing are available on our Cruise Search, Ship iFrames, Brochure Racks and Cruise API now.
nickoVISION will be one of the ships at the 2023 CLIA River Conference in Vienna and we can't wait to have a look around the ship. Here's everything you need to know to start selling them.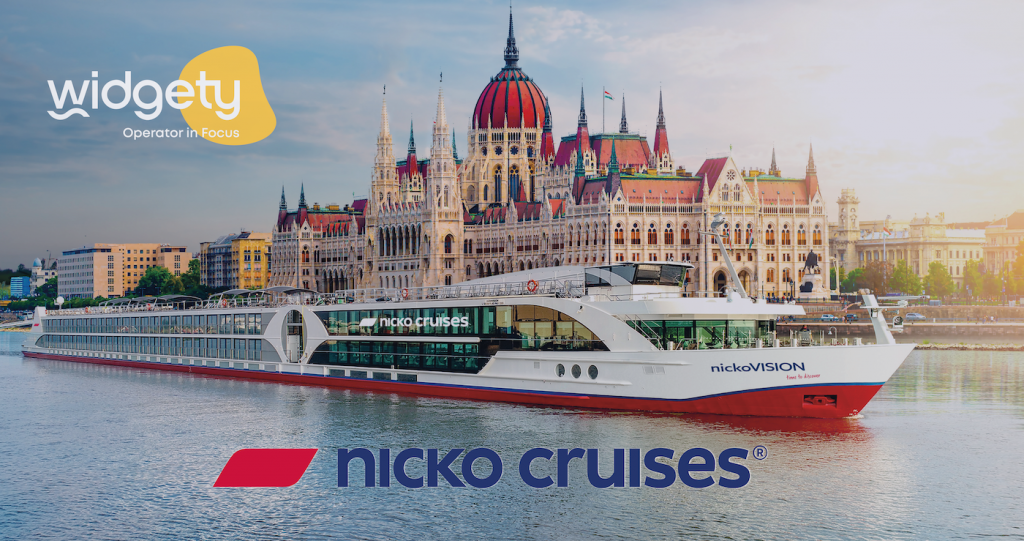 Nicko Cruises has a fleet of 15 ships, comprising of 13 river and 2 ocean ships. Although they have been operating for 30 years in Europe, Nicko only launched to the UK market shortly before the Covid-19 Pandemic and the travel restrictions that it brought with it, making it a relatively new face for UK river cruisers. 
The newest ship to the fleet, nickoSPIRIT, was launched in 2021 and visually stands out among river cruise ships. The contemporary design features a glazed bow, with a bar and outdoor seating placed on the veranda right at the front of the ship.  
We spoke to Michelle Daniels, Commercial Director for UK & Europe of Light Blue Travel, the GSA (General Selling Agent) for Nicko Cruises in the UK about what makes the line stand out, and how you can start selling their cruises.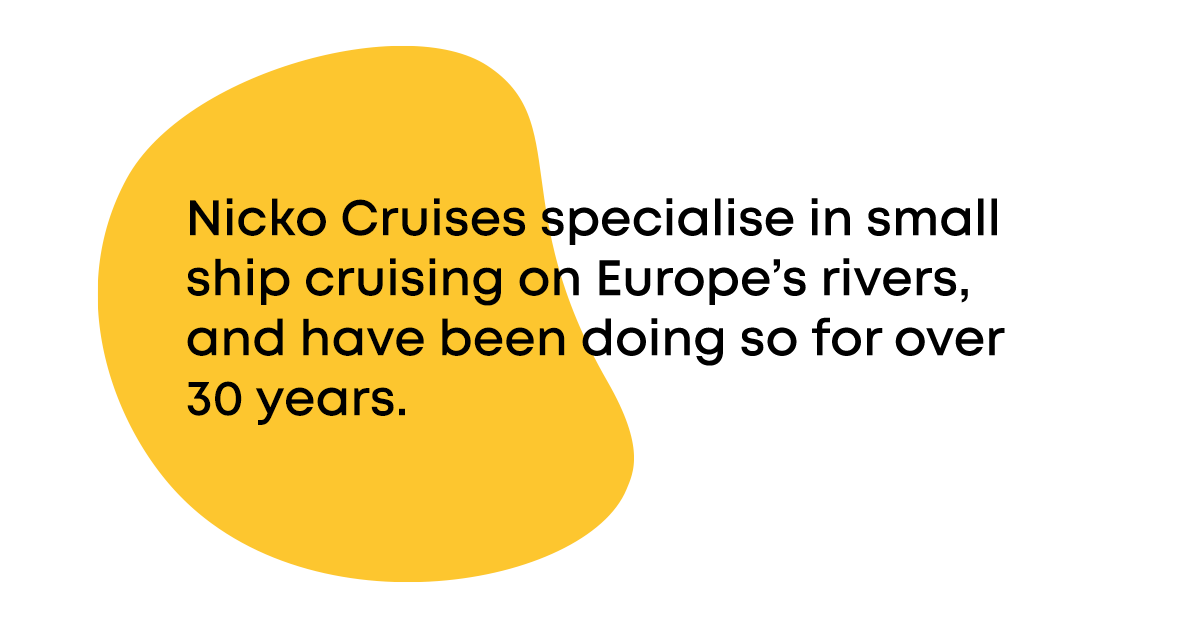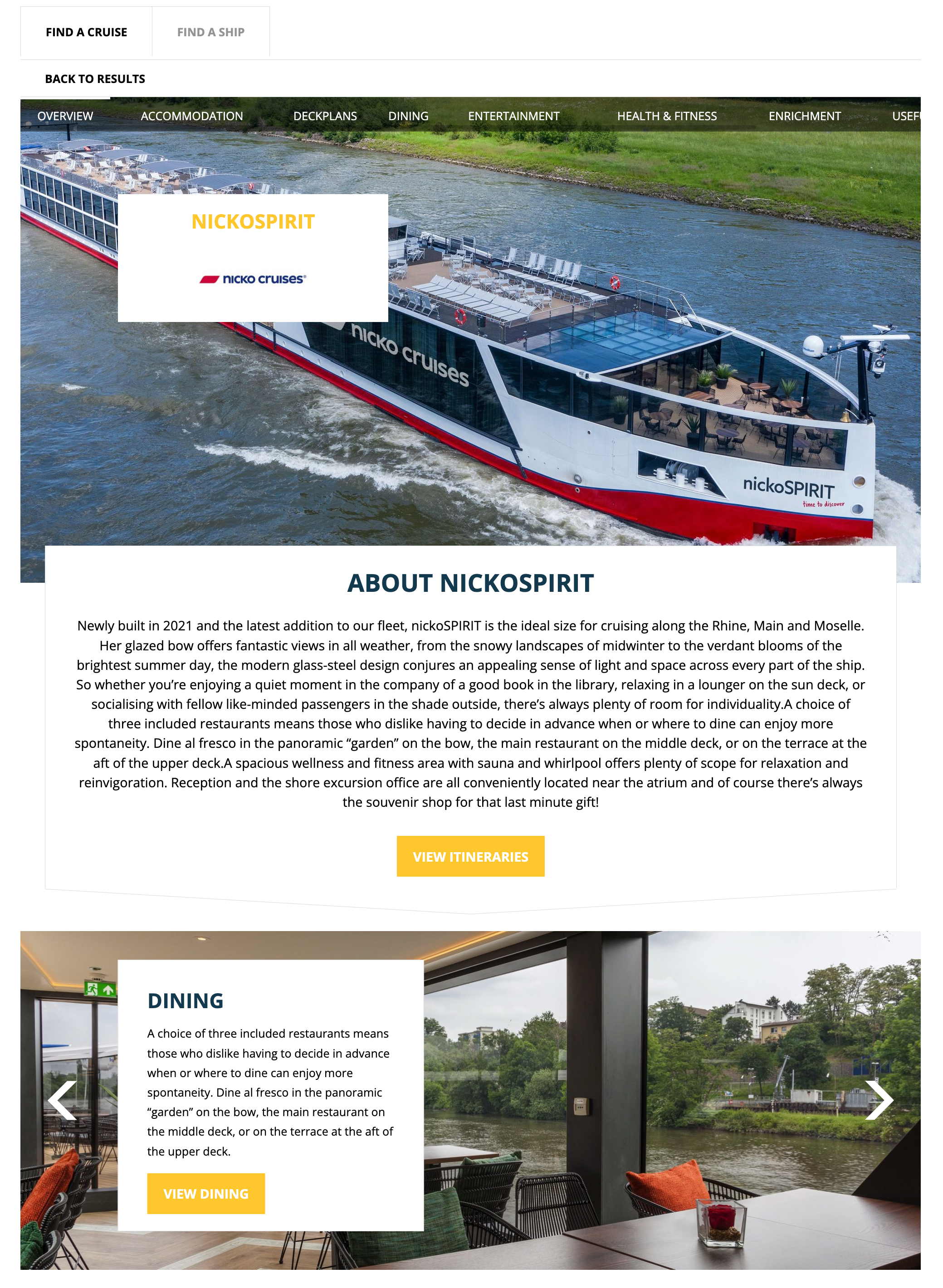 Light Blue Travel sell Nicko River Cruises as a fully inclusive product, with flights, transfers abroad, full board cruise (including afternoon snacks!), selected excursions, gratuities, wifi and an unlimited drinks package included within the cruise fare. 
Everything is ATOL protected and fully commissionable to the trade. 
Michelle added;
"We also have two fabulous new design ships offering a contemporary style with lots of glass which floods the interior with natural light. In addition our two newest ships, nickoVISION and nickoSPIRIT, offer three dining venue options at no additional charge".
Why should agents sell Nicko Cruises?
While Nicko Cruises is a German-owned cruise line, English is spoken on all their ships, and UK guests don't need to worry about any language barriers on board. The line focuses on small ships and destination-led experiences, offering opportunities that guests might not get on larger ships.
"We offer an exceptional value all-inclusive culturally immersive cruise experience and a great opportunity for groups. We offer groups discounts plus free place incentives and can organise exclusive shore excursion packages".
The cruise program has also been extended for 2023 and now offers more itineraries than ever before, importantly there are a wider variety of advent sailings available for the upcoming Christmas/New Year season, visiting the best Christmas markets Europe has to offer along the Rhine and the Danube. 
Cruises start at £699pp based on a 5 day Danube Capitals cruise, with that fare including all of the extras that were previously mentioned. 
Got a customer who is adverse to flying? There are also a selection of no-fly cruises available where flights are replaced with Eurostar travel. 
All cruises are fully commissionable for agents, and we're told that there are some new tools to help agents sell Nicko Cruises in the works, including digital marketing assets, pre-recorded webinars, a selling guide and an online training programme; all of which will be revealed soon.  
About the Widgety integration
Nicko river cruises are available on the Widgety API and Cruise Search now. Please note that we're working on adding in ocean cruises as well but they are not available at the moment (February 2023).
Pricing
Only one set of pricing will be available for each river cruise; the All-inclusive Package; which includes flights, transfers, unlimited drinks package, gratuities, wifi and selected excursions.
Availability
The data has been provided manually by the GSA – this means that we are unable to show availability. This also means that the headline pricing should only be used as a guide.
Itineraries
The cruises are currently provided to us by Nicko Cruises' GSA for the UK market. The cruise line as a whole does operate other departures, however these are not available to the UK market, and are not currently included in our API.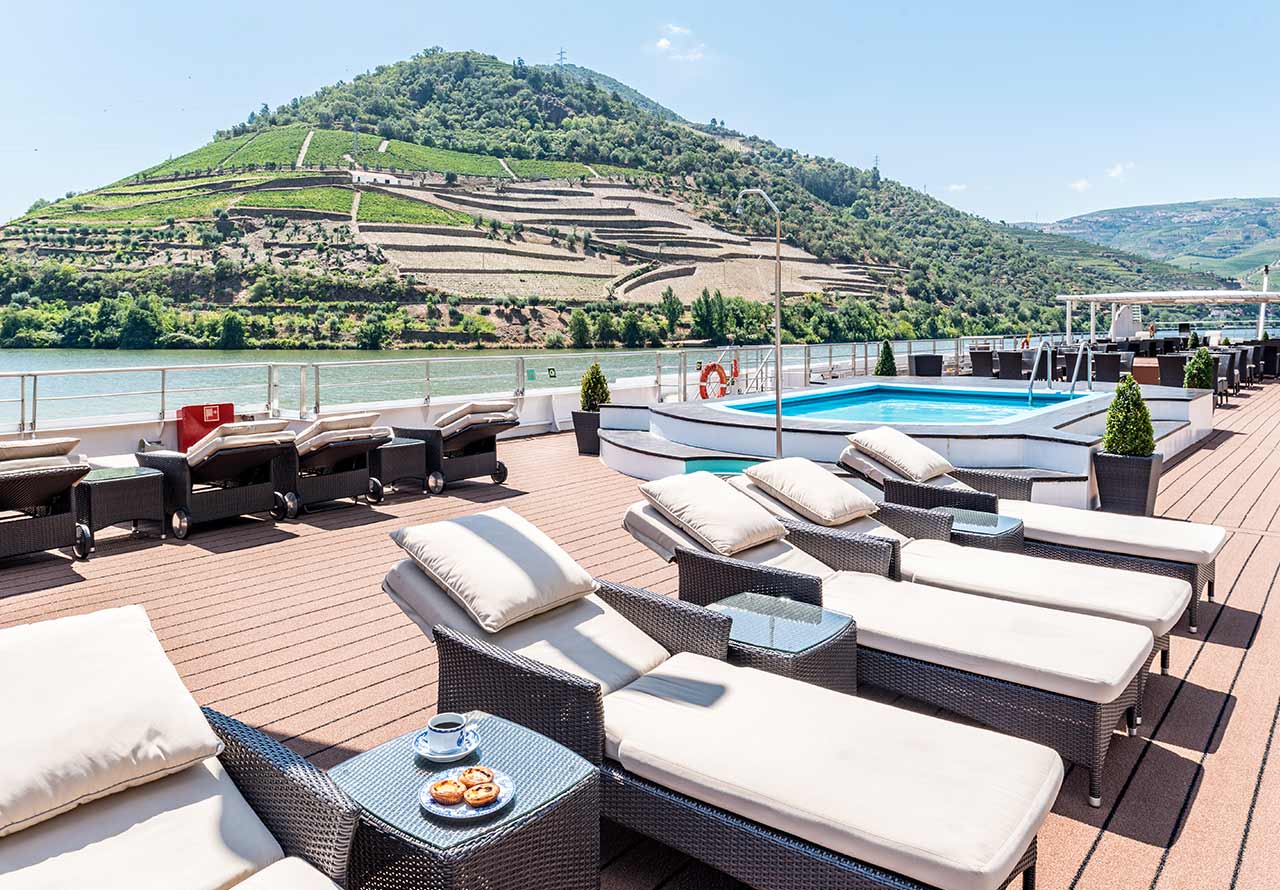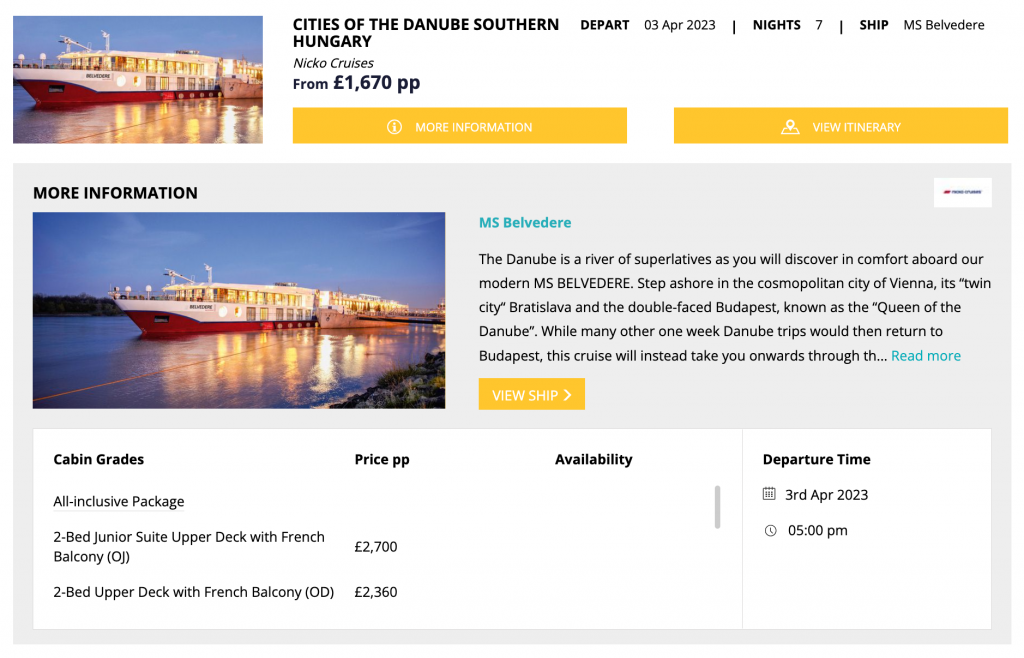 – On board languages are German and English
– Pricing data is added in manually by Light Blue Travel and does not provide availability
– Every passenger is all inclusive
– No-fly cruise options are available
– Nicko Cruises are members of CLIA, MidCounties, and The Cruise Club Concierge at TTNG
– Extensive advent, Christmas and New Year cruises available
– Agent selling guides and trade resources are coming soon
Don't forget, Nicko Cruises' ship nickoVISION will be at the CLIA River Conference 2023 in Vienna, giving all agents attending a chance to experience the ship and speak to the team. We can't wait to step on board and we'll see you there!
You can contact Michelle Daniels, Commercial Director (UK & Europe) for more information and to discuss partnerships at:
michelle@lightbluetravel.co.uk
Phone: +44 (0)1223 444181
Not going to CLIA River Conference 2023? You can see our Ship iFrame with everything about nickoVISION below.