Advantage Travel Partnership teams up with Widgety
From 7th – 9th October 2022, Widgety attended Advantage Travel Partnership's 'Back on the Water' Cruise Conference on board Virgin Voyages' Valiant Lady. Around 150 agents and suppliers joined the ship in Ibiza for the two day event, where it was revealed that Advantage's Cruise Champs product would be ending, and would be replaced by brand new initiative Latitude. 
Led by Johnny Peat, Advantage's Cruise Commercial Manager, Latitude gives members all the tools they need to expand their knowledge of the cruise sector and maximise earning potential. 
There are four main branches to Latitude; Communication, Training, Commercial, and Marketing; and Advantage have teamed up with CLIA to provide a discount for Advantage members as well. 
The marketing arm of Latitude is where Widgety comes in, as there is now a Cruise Search and Brochure Rack on the Advantage Intranet that is free for members to use. The content has been chosen by Advantage to only show information from operators they work with, and allows members to quickly find any cruise, ship or resource quickly and easily. 
The Brochure Rack also features trade resources and collateral that Advantage have produced themselves. 
One of the speakers at the conference was Andy Harmer, Managing Director CLIA UK & Ireland (and now also an OBE!), who told those attending about the growth figures in the UK cruise industry; now the fifth largest cruise market in the world. 
In 2022 there have been 16 new ocean ships and 12 new river ships, with a lot more launching in 2023 as well – cruise is growing exponentially, and 2023 is expected to be a record-breaking year. Importantly, it's reported that two thirds of people that haven't cruised previously would consider it for their next holiday, meaning that now is the perfect time for agents to be learning about the industry. For the first time, there truly is a cruise for everyone, and it's up to agents to match customers to their perfect cruise. 
The Widgety Cruise Search aims to make this easier for Advantage members, who can now quickly search by any criteria to find a cruise to suit their customer. Furthermore, with every ship detail available at the click of a button, agents don't need to worry about becoming an expert in every brand.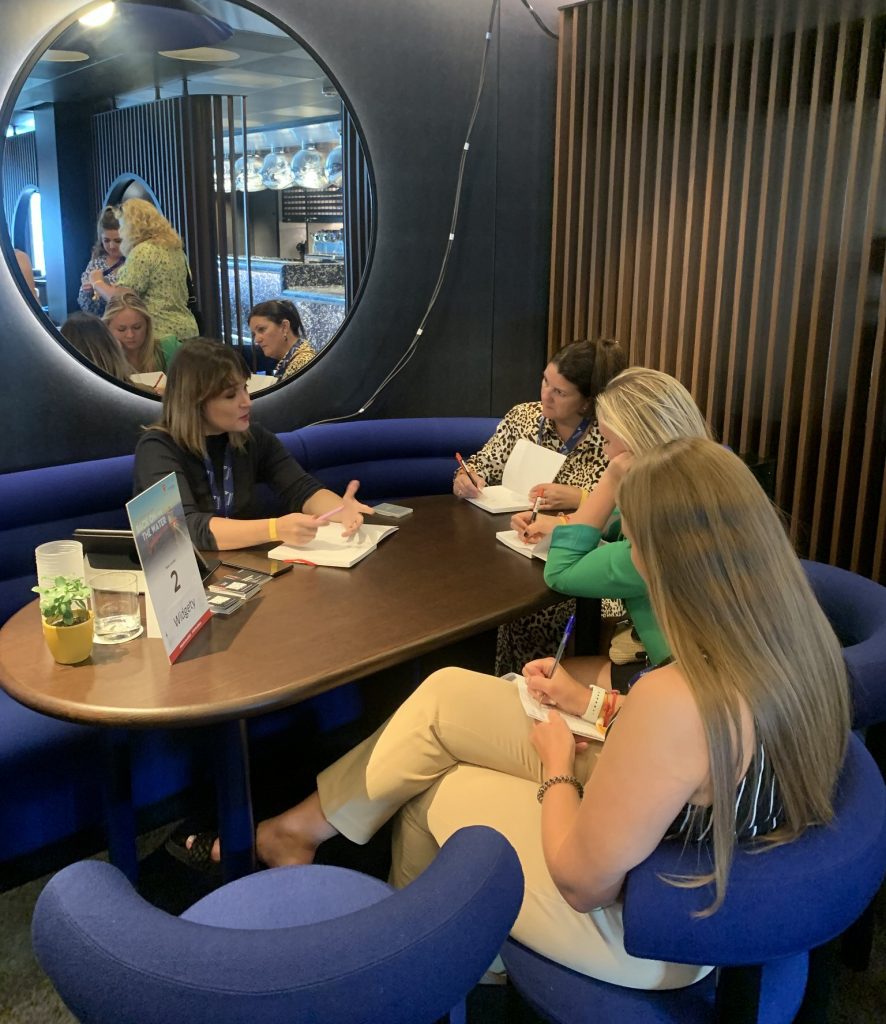 Shortly after the conference sessions (and a 'Shake for Champagne' interlude) was a Speed Networking event, where we were able to talk to every single agent on board about what Widgety offers on the Advantage Intranet, and interest appeared to be high. 
Members also have the option to have bespoke Widgets on their own websites at a reduced cost if this is something they're interested in. 
There is a 90 day free trial and bespoke Widgets can include enquiry options and the ability to create content for websites, social media and marketing resources.
It's been a tumultuous few years with the Covid-19 pandemic, but Peat reported that 40% of bookings is for travel that takes place in the next 12 weeks, showing a pent-up demand for holidays and a much shorter lead time than the industry is used to. Large ships are leading the way and the easing of travel restrictions is making it easier for people to book. With some operators now even removing vaccine requirements it means that families with children don't have to face the headaches of minimum vaccination ages, which have varied hugely from country to country. 
We hope that the Cruise Search and Brochure Rack proves useful for Advantage members and that they make the most of the wealth of content available to them. There's more information available about our products and the free trial of the Widgets on our website, and if you have any queries at all please get in touch.
Thanks to everyone that spoke to us during the conference, to Shane and the team at Virgin Voyages for hosting (and for letting us jump in your taxi in Ibiza!), and of course to the entire Advantage team for inviting us to be a part of their exciting new initiative. 
You can find out more about Advantage's new Latitude product here.